Health-robbing toxic pesticides are EVERYWHERE…
…including your body.

But now you can do something about it—
with a powerful, natural pesticide detox and defense formula.
ADVANCE your efforts to REDUCE toxic pesticides—with an easy-to-take natural solution...
You know how important it is to eat clean, shop organic (when you can, that is) and choose non-toxic body products.
But the truth is that no matter how diligent you are, pesticides and other agricultural toxins end up stored in your body—where research shows they can have serious consequences.
The bottom line? You need to do more… a LOT more—to defend your health against the ever-increasing burden of toxic agricultural and other environmental chemicals.
Hi, I'm ecoNugenics founder and lead formulator, Dr. Isaac Eliaz. Over the years, I've seen the impacts of pesticides in my patients.
That's why I formulated a powerful, evidence-based detox solution to advance your efforts against toxic pesticides and other environmental pollutants…
GlyphoCleanse™ Pesticide Detox Formula
This daily detox formula is designed to remove toxic pesticides, including glyphosate, from your body… and prevent them from being stored in vulnerable organs and tissues, like your brain.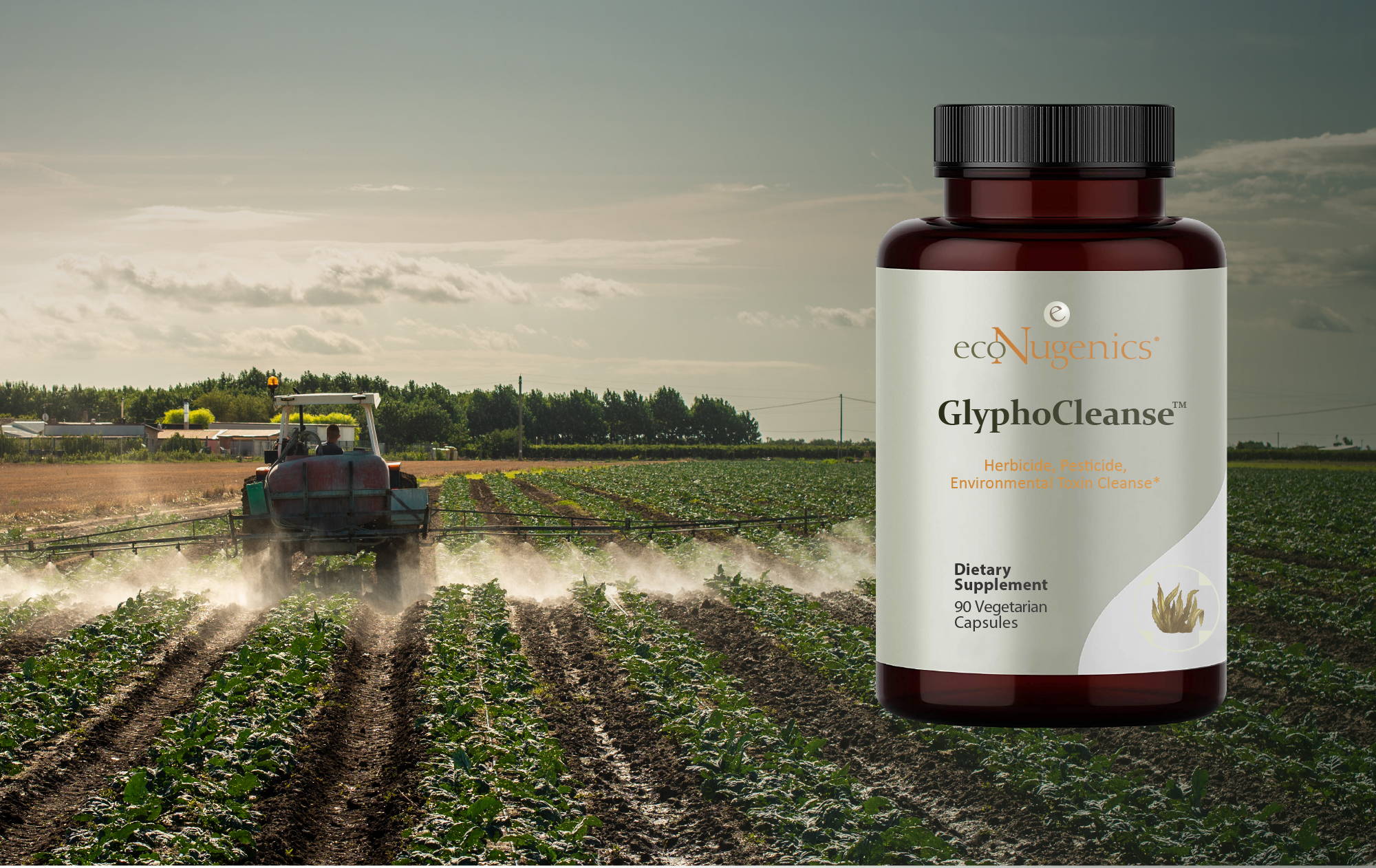 Plus, GlyphoCleanse helps protect and support organs and systems that are especially susceptible to pesticides and environmental toxins:
• Thyroid
• GI tract
• Microbiome integrity
• and other areas…

With an expert blend of evidence-based natural binders and detox agents, this advanced pesticide protection formula is one of the first to specifically target the most notorious pesticides in use today—including glyphosate—along with other agricultural toxins that permeate the environment.
And your body.

Designed for daily defense and protection, this formula helps to accomplish three important goals:
Safely remove glyphosate and other agricultural and environmental toxins, including fluoride

Block uptake of these toxins into sensitive organs and tissues, like your thyroid

Support GI health, thyroid and microbiome

Powerful natural binders in the formula—citrus pectin, alginates, and organic Icelandic kelp—deliver broad-spectrum support against pesticides, organophosphates and other environmental toxins.
Iodine-rich organic kelp and glycine compete with glyphosate, bromide, fluoride and others, blocking absorption into organs and tissues— like your thyroid.
These multi-targeted ingredients also provide essential nutrient support for thyroid health, your digestive system, and other areas that are vulnerable to ongoing toxin exposure.
GlyphoCleanse™ Herbicide, Pesticide, Environmental Toxin Cleanse*
Daily Support for Everyday Toxins
Today, research continues to show how toxic body burden can have numerous impacts on your long-term health. From immunity to cellular health and beyond, it's never been more important to take action and defend your health against pesticides and pervasive environmental toxins.
GlyphoCleanse pesticide detox and defense formula gives you the upper hand against pervasive environmental pollutants, providing a simple yet powerful daily solution so you and your loved ones thrive—today, tomorrow and beyond.