Buy ANY Cardiovascular Suppliment and Get a
Free 30-day Supply of PectaSol-C Stick Packs!
Improve Your Heart Health Now
ecoNugenics offers some of the most innovative and extensively researched cardiovascular formulas, proven to protect and promote long-term heart health, strong circulation and overall cardiovascular function.
---
Learn more about these products below:
---
PectaSol-C® Modified Citrus Pectin
The Original and Only Clinically-Proven Modified Citrus Pectin
A Healthier You Starts with Healthy Cells
Cover Your Bases
Cellular health is the foundation of long-term wellness and healthy aging. PectaSol-C® Modified Citrus Pectin is proven to provide unparalleled support for healthy cellular function via its unique mechanisms of action, delivering essential benefits to key organs and systems.*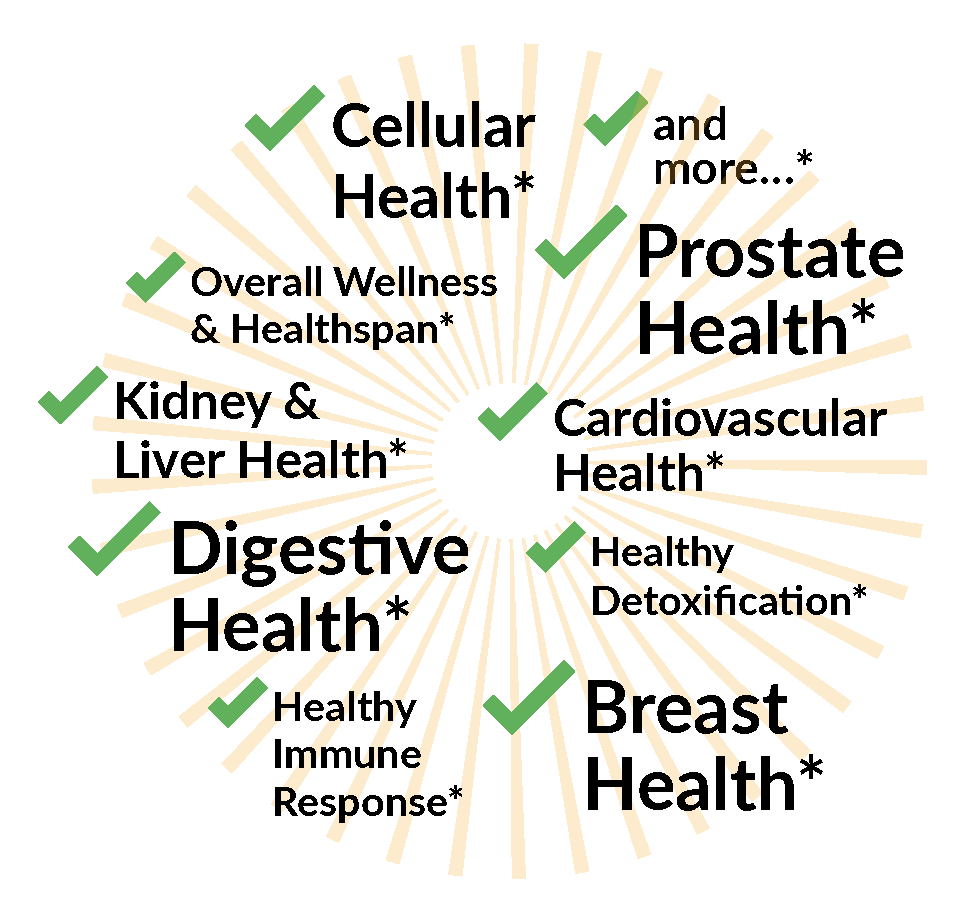 Over 50 Positive Studies and Counting
PectaSol-C is the original and only clinically proven Modified Citrus Pectin on the market. With over 50 peer-reviewed published studies and counting, PectaSol-C continues to gain recognition as a scientifically substantiated natural solution, delivering powerful benefits for our most critical areas of health - safely and naturally.*
The Most Researched Galectin-3 Blocker
What makes PectaSol-C so unique and effective
PectaSol-C is the ONLY available agent shown to halt the actions of "rogue protein" galectin-3 (Gal-3). More than 3,500 published studies, including large-scale clinical data, demonstrate how elevated Gal-3 impacts cellular health, cardiovascular health, kidney and liver function, immunity, and much more. Gal-3 is normally present in small amounts throughout the body, however, levels increase with age and other factors.
Pectin vs. Modified Citrus Pectin vs. PectaSol-C
How it Works: Size Matters
It's important to note that not all Modified Citrus Pectin products are the same. Regular, unmodified pectin molecules are too large to enter the circulation. And other unresearched forms of Modified Citrus Pectin don't have the correct molecular requirements for efficacy, as shown in published literature.
PADMA Basic Tibetan Herbal Formula
---
Tibetan Herbal Formula
Padma Basic is a clinically-proven herbal supplement based on a classical Tibetan formula, shown in over 50 published studies to provide comprehensive support for cardiovascular and other key areas of health.*
Promotes Cardiovascular & Circulatory Health*
Supports Mobility*
Maintains Healthy Blood Pressure*
Promotes Healthy Immune Function*
Supports Against Free Radicals*
Clinically Researched Formula
Healthy Hearts Love Longer
Circulation is life
Free-flowing circulation keeps your cells, tissues, and organs in peak shape—delivering critical nutrients while washing away byproducts and waste. Padma Basic is clinically proven to provide dynamic support for healthy cardiovascular function, including powerful benefits for optimal circulation and blood pressure.*
30+ Published Clinical Studies
One of the most-researched herbal formulas available today
Padma Basic is backed by 30+ peer-reviewed clinical studies demonstrating powerful benefits for cardiovascular, circulatory, and immune health. With more than 50 total publications spanning four decades, Padma Basic reflects the synergistic potential between time-honored herbal principles and rigorous scientific evaluation—resulting in advanced solutions for today's most critical areas of health.*
Harness the Essential Power of Aromatic Botanicals
What makes Padma Basic so effective?
The unique botanical ingredients in Padma Basic deliver a broad spectrum of beneficial compounds, including aromatic essential oils, terpenes, tannins, flavonoids, and other phytonutrients. These powerful antioxidant-rich compounds act synergistically to provide clinically-proven support for cardiovascular and micro-circulatory function, immunity, oxidative stress defense, and other critical areas of health.*
Classical Tibetan Herbalism + Swiss Precision = Clinical-Grade Support
Formula history
Padma Basic is based on a traditional herbal formula used in Tibetan monasteries for centuries to promote optimal health. In the 1960s, Swiss pharmaceutical pioneer, Dr. Karl Lutz, was introduced to the formula by a Tibetan doctor in Europe. Dr. Lutz' "discovery" marked the beginning of rigorous scientific inquiry into the unique properties of Padma Basic—research that continues today. Padma Basic is still manufactured in Switzerland under stringent quality guidelines ensuring optimal purity, potency and efficacy of this time-honored formula. ecoNugenics has been the exclusive US distributor of Padma Basic for over two decades.
Padma Basic contains 19 botanical ingredients including Iceland moss, costus root, neem, cardamom, clove, and bael tree fruit, together with natural camphor and calcium sulfate. This synergistic blend supplies a diverse array of active phytonutrient compounds that work through multiple mechanisms to promote healthy cardiovascular and circulatory function and optimize immune responses.*
The flavonoids, tannins, polyphenols, aromatic essential oils and other beneficial compounds in Padma Basic act as powerful antioxidants to promote arterial health and normal blood flow, in turn supplying oxygen to the heart and extremities. They also defend blood lipids against oxidation, resulting in critical benefits for vascular health as shown in controlled studies.*
Backed by Decades of Research & Clinical Use
More than 35 years of clinical, peer-reviewed research confirm the unparalleled benefits of Padma Basic. Rigorous scientific studies continue to verify the broad-spectrum actions of this ancient herbal formula in helping to support and maintain optimal vitality, immunity and long-term wellness.*
Supports Circulation and Cardiovascular Health*
---
Head-to-Toe Circulation Support
Circutol provides total-body support for optimal circulation and healthy blood pressure. This innovative formula combines a powerful enzyme, together with targeted botanicals and nutrients, for comprehensive circulatory and cardiovascular health.*
Promote Healthy Circulation*
Maintains Healthy Blood Pressure Levels*
Cardiovascular, Circulatory & Immune Support*
Botanicals, Nutrients and Enzymes Promote Circulatory and Overall Cardiovascular Health*
Circutol® combines hawthorne berry, Chinese salvia, the medicinal mushrooms cordyceps andreishi, together with L-Carnitine and a powerful enzyme called nattokinase. This unique formula delivers targeted support for numerous aspects of cardiovascular health, including circulation, healthy lipid levels, antioxidant activity, and balanced blood pressure.*
Nattokinase: A Powerful Enzyme for Circulation*
Nattokinase is a powerful health promoting enzyme derived from natto, a traditional Japanese food made from fermented soybeans. Research shows that nattokinase can promote healthy blood fl ow and offer powerful support for the circulatory system. Circutol® contains NSK-SD®, thehighest quality Nattokinase available. NSK-SD is non-GMO and vitamin-K free.*
Hawthorne and Chinese Salvia
Hawthorne, an edible berry-like fruit from the trees of the Crataegus species, is shown to promote healthy lipid levels, circulation and increased antioxidant activity. Chinese salvia is widely used throughout Asia to promote healthy blood flow and relieve what's known in traditional Chinese herbalism as "blood stagnation." Research shows that an active compound from this herb supports healthy circulation.*
Medicinal Mushrooms
Research shows that the medicinal mushrooms reishi (Ganoderma lucidum) and cordyceps (Cordyceps sinensis) help maintain healthy blood pressure levels and strong circulation, among other health benefits.*
Heart Health Amino Acid*
L-Carnitine is an amino acid critical for energy production and prized for its powerful antioxidant properties. Research on L-Carnitine shows multiple benefi ts for cardiovascular health, including increased exercise capacity in healthy individuals.*
---
Comprehensive Metabolic Support
ecoMetabolic is an innovative botanical and nutrient formula that delivers powerful protection and support for healthy metabolic function and optimal glucose balance.*
Supports Healthy Metabolic Function*
Promotes Healthy Glucose and Cholestorol Levels*
Helps Reduce Sugar Cravings*