Another Amazing Year of Pectasol Research
It's been another exciting year for independent, peer-reviewed research on PectaSol-C. 2019 brought us nine new studies on PectaSol-C, pushing us to over 50 published papers on the original and only proven-effective form of Modified Citrus Pectin.
Whether in the laboratory or as a cornerstone of integrative health protocols, PectaSol-C continues to demonstrate powerful benefits for organ and tissue function, cellular health and oncology support, and much more.
This is why independent research groups around the world are increasingly interested in studying PectaSol-C—and specifically, its unique benefits and mechanisms of action, including:
Only available agent shown to block rogue protein Galectin-3 (G-3)*
Enhancing the efficacy of other health protocols (conventional and complementary)*
Delivering powerful benefits for healthy cell, tissue and organ function*
Safely binding and removing heavy metals and environmental toxins*
Balancing and supporting healthy immune function*
Supporting digestive health as a prebiotic fiber*
Promoting healthy aging and longevity*
2019 PectaSol Research Highlights
Published in the high-impact journal, Nutrients, this review article summarizes the extensive published research on PectaSol-C Modified Citrus Pectin. Forty-six published studies, including human clinical trials on PectaSol-C are featured in this review, highlighting its unique benefits across multiple areas of health. From support for healthy cellular function, synergy with conventional protocols, benefits to critical organs and systems, heavy metal and toxin removal, and much more, this paper is an excellent resource for anyone seeking to dive into the published data on this extensively studied ingredient.*
November 2019—PectaSol-C Clinical Trial in Prostate Cellular Health: Updated Results2
Updated results from an 18 month, ongoing double-blind clinical trial on PectaSol-C for prostate cellular health, were presented at the EMUC 2019 Conference. Previously presented results at six months showed the prostate health benefit of PectaSol-C in 45 men, demonstrating benefits in 68% of subjects. Updated results showed that after 18 months, PectaSol-C resulted in significant prostate cellular health and PSA benefits in 65% of subjects, compared to baseline. Currently, 60 subjects total are now enrolled.*
October 2019—PectaSol-C maintains cardiovascular health after impacts from kidney function3
Published in the JACC: Basic to Translational Science, this independent, preclinical study demonstrated how PectaSol-C blocked the actions of rogue protein, G-3. In doing so, PectaSol-C actively promoted cardiovascular health following impacts from acute kidney function, compared to control groups.*
August 2019—PectaSol-C is an essential upstream solution for maintaining heart health and function4
Published in the journal, Anales del Sistema Sanitario de Navarra, this independent preclinical study shows how PectaSol-C blocked multiple effects of rouge protein, G-3, to support aortic valve integrity, healthy circulation and overall cardiovascular function, compared to controls.*
July 2019—PectaSol-C actively maintains cardiac tissue health following cardiovascular event5
Published in the journal Nature Scientific Reports, this preclinical study shows for the first time exactly how PectaSol-C works to support and maintain healthy cardiovascular function by blocking the rogue protein, G-3. PectaSol-C was shown to actively promote healthy cardiovascular tissue integrity following a cardiovascular event, compared to controls.*
July 2019—PectaSol-C and Alginate Combo (PectaClear® Environmental Toxin Cleanse) removes uranium from the body6
This clinical case report, published in the journal Alternative Therapies in Health and Medicine, reviewed a case of a family with chronic exposure to uranium from their surrounding environment in the Southwest United States. Five family members took PectaClear (PectaSol-C plus sodium alginates formula), and showed a significant reduction in uranium levels following the regimen.*
June 2019—PectaSol-C enhances the effects of conventional protocol for ovarian cellular health7
This preclinical study adds to the body of published research showing how PectaSol-C works synergistically with other protocols, including conventional cellular health protocols. Results of this study showed how PectaSol-C enhanced the effects of a conventional approach for ovarian cellular health, through inhibition of specific cell signaling and gene pathways.*
March 2019—PectaSol-C supports healthy cardiac function by blocking rogue protein, G-3, and its subsequent effects8
Published in the journal Hypertension, this preclinical study highlights the ability of PectaSol-C to block rogue protein G-3, and in doing so, support healthy cardiac tissue and positive cardiovascular health outcomes. This study also showed for the first time that G-3 levels in cardiac tissue were in part increased by the cytokine called cardiotrophin-1 (CT-1).*
March 2019—PectaSol-C supports healthy circulation and cardiac function by blocking rogue protein G-39
This preclinical study published in the journal, Frontiers in Physiology, demonstrates how PectaSol-C supports healthy circulation and cardiac tissue integrity by decreasing the activity of the rogue protein, G-3.*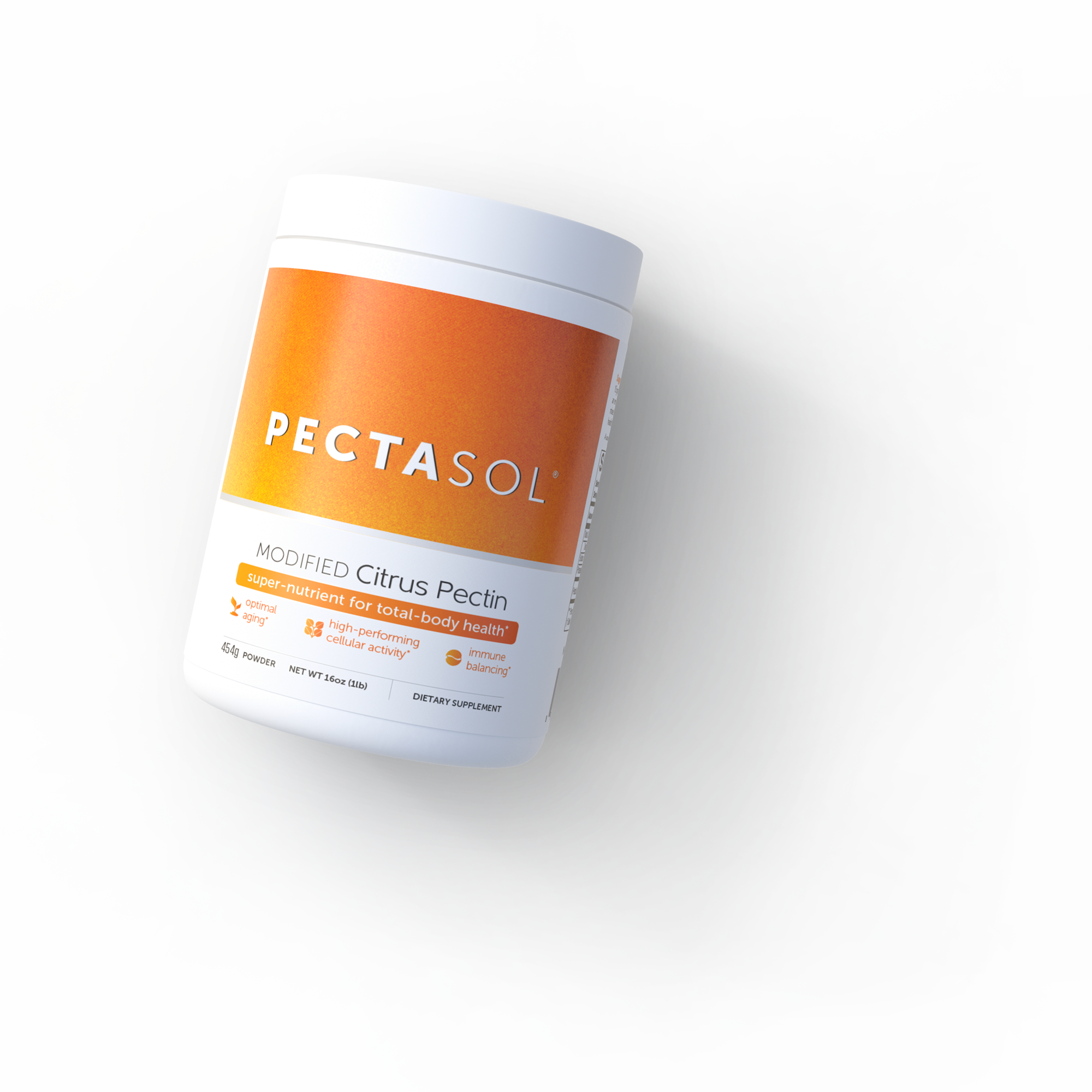 Formulated by award-winning Integrative Medicine expert and best-selling author, Isaac Eliaz, MD, PectaSol is the leading supplement for enhancing the body's most essential self-healing mechanics.
Most Important Supplement for Long-Term Health
As the research interest in PectaSol-C continues to gain momentum, we're expecting even more exciting publications to emerge in 2020 and beyond. This fast-growing body of peer-reviewed substantiation continues to point out new areas of health where PectaSol-C can make a significant difference.*
From this extensive research, one thing is clear: PectaSol-C is one of the most important daily supplements we can take for long-term health and wellness, healthy aging, and overall vitality.
Sources:
Eliaz I & Raz A. Nutrients November 2019, 11(11), 2619
Dressler H, et al. European Urology Supplements. 18. 2019, e3467. 10.1016/S1569-9056(19)34628-7
Prud'homme M, et al. JACC: Basic to Translational Science. 2019 Oct, 4 (6) 717-732
Arrieta C, et al. An Sist Sanit Navar. 2019;0(0):72347
Ibarrola J, et al. Nature Sci Rep July 2019;9(1):9607
Eliaz I, et al. Altern Ther Health Med. 2019;25(4):20-24
Hossein G, et al. Can Med. 2019;00:1-15
Martínez-Martínez E, et al. Hypertension. 2019 Mar;73(3):602-611 9) Li S, et al. Front Physiol. 2019 Mar 22;10:267
Li S, et al. Front Physiol. 2019 Mar 22;10:267
---