Clinically Researched Prostate Health Solutions
Prostate health, like so many other areas of health, tends to get ignored…until something demands your attention. When changes in prostate function become noticeable, they can impact quality of life, as well as overall health and longevity.
The good news is, researched prostate solutions can work to truly optimize prostate health and function, and help men stay active and strong at any age.
For advanced prostate health support, ecoNugenics recommends two clinically researched formulas that are shown in multiple published studies to deliver multi-targeted benefits for prostate and urinary health, with additional support for immunity and overall vitality.
Even better, these two powerful prostate solutions are shown to work synergistically to enhance each other's benefits, delivering significantly greater results for prostate health when used together.
PectaSol— 25 years of Research in Prostate Health and Beyond

Our flagship formula, PectaSol | Modified Citrus Pectin is shown in over 60 published studies—including published clinical trials— to deliver comprehensive benefits for prostate cellular health and function, as well as other critical areas of health.*
The most recent clinical results on PectaSol in prostate health were presented at the prestigious EMUC 2019 Conference, and the outcomes showed significant benefits. These updated results from an ongoing double-blind clinical trial showed that after 18 months, 65% of subjects who consumed PectaSol at 15 grams per day, saw significant prostate cellular health benefits, including PSA levels, compared to their original baseline.*
This clinical study is just one of many published, peer-reviewed studies on the benefits of PectaSol for actively promoting and maintaining healthy prostate cells and prostate function.*
ProstaCaid—Published Studies Show Benefits in Prostate and Urinary Health
ProstaCaid is a researched prostate formula that's clinically shown to deliver broad-spectrum support for prostate cellular health and urinary function. ProstaCaid is a comprehensive blend of science-backed botanicals, antioxidants and nutrients that work together to promote a healthy prostate.*
Multiple peer-reviewed studies on the formula itself demonstrate that ProstaCaid supports prostate cellular health, even against aggressive prostate cells, and actively promotes healthy prostate and urinary function.*
The most recent published clinical data on ProstaCaid is particularly significant, and mirrors what health providers observe when using this researched supplement in their practice—that ProstaCaid is an effective strategy to support long-term prostate and urinary health in men, with broad-spectrum benefits in multiple areas.*
This retrospective clinical survey, published February 2018 in Alternative Therapies in Health and Medicine, reported on lower urinary tract function among 75 subjects. The study evaluated urinary function before starting ProstaCaid, and after two months of use.*
Results showed substantial benefits from ProstaCaid in areas such as frequency of urination, incomplete bladder emptying, weak stream, and straining.*
Better Together—The Strategy of Synergy
While these two powerful prostate formulas offer significant benefits on their own, research also shows they work better when used together.
ProstaCaid is shown to work synergistically with PectaSol, resulting in up to 40% greater benefits for prostate cellular health when the two are used together, compared to either product alone.*
September is Prostate Awareness Month, and a great time to stock up on clinically researched prostate health solutions. And achieving—and maintaining— peak prostate health doesn't have to be complicated. At ecoNugenics, it's our mission to deliver the most effective, research-based formulas and natural health solutions—like ProstaCaid and PectaSol— that can be easily incorporated into your daily routine…with life-long benefits for health and vitality.*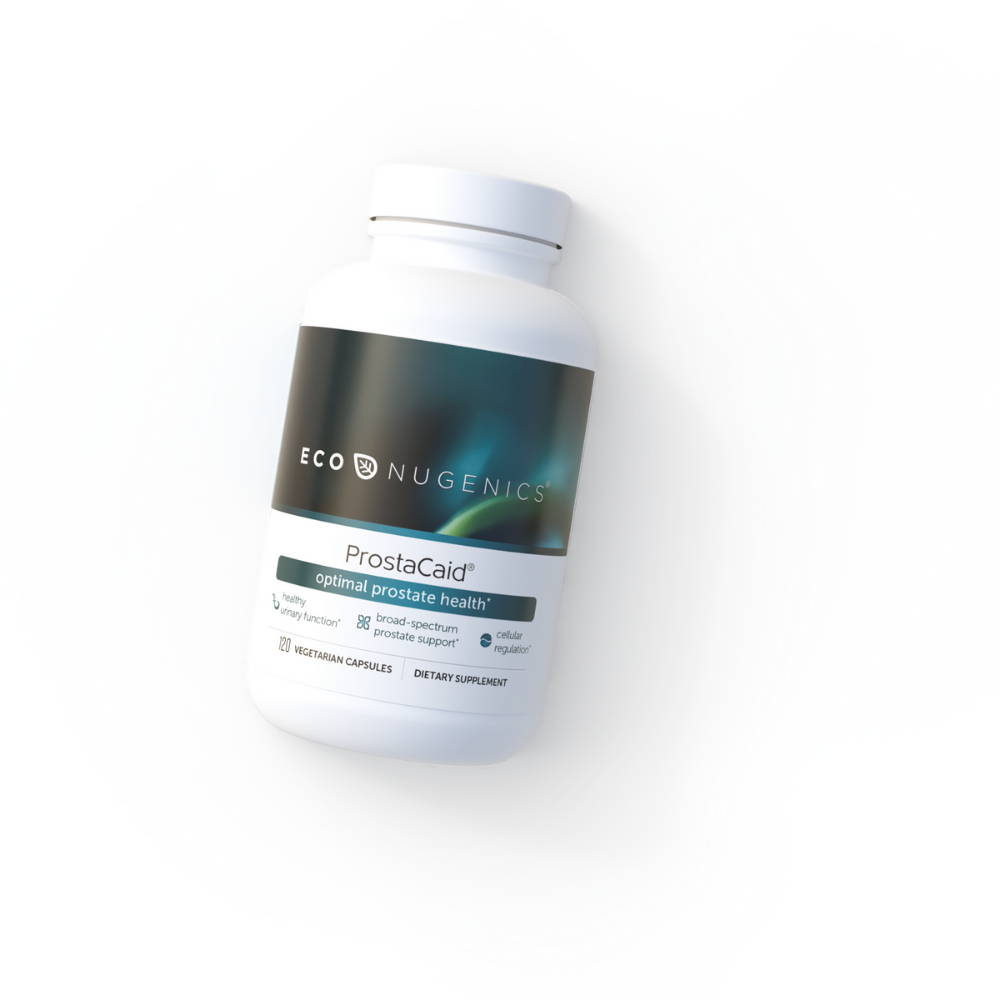 Formulated by Integrative Medicine Expert and best-selling author Isaac Eliaz, MD, this trusted prostate support supplement is backed by research for enhancing prostate health and aging for men.
---