Do Women and Men Need Different Supplements?
Do men and women require different approaches to health and nutrition?  
Absolutely.  
Cutting-edge research in genetics and other areas uncovers fascinating details about how men and women respond differently to illness, nutrition, drugs, supplements, and other influences.  
For example, liver function in men and women differs in relation to their gene expression, causing differences in hormone synthesis, drug metabolism and other actions.  
That's why when it comes to what health supplements men and women should be taking, there isn't a  "one-size-fits-all." Today, this philosophy is gradually being replaced with individualized, patient-centered care strategies, based in research, and proven to support what the body needs most.  
At ecoNugenics, we're proud to be a recognized leader in this field. 
Formulated by integrative medicine expert and researcher, Isaac Eliaz, MD, our unparalleled supplements deliver targeted solutions tailored to meet the unique needs for each individual. And, women's health is one area where our research-based formulas have proven to make a significant difference.  
When it comes to women's wellness, there are certain areas where women can benefit from extra support. For example, women often feel better from having more assistance with bone preservation, hormonal balance, neurological wellness, and support for energy systems. So, what should you take for women's health?
Through the ages, traditional medical systems have recognized that certain herbs and botanicals enhance women's health, balance hormones, build bones, and promote vitality throughout all stages of a woman's life. Here are some of the time-honored herbs that are considered natural essentials for supporting and improving  women's health. 
Natural Herbs for Menstruation, Mood, and Hormone Balance in Women
Black Cohosh root  

has long been used to ease menstrual cramping and symptoms associated with menopause, including hot flashes. 

 

Peony root  

can ease premenstrual syndrome, as well as supporting heart health and liver detoxification.

 

 

Cordyceps

 

is a relatively rare medicinal mushroom found in Asia, and helps in balancing stress hormones, supporting cardiovascular function and boosting energy.

 

 

Dong Quai

 is a traditional Asian herb used to balance estrogen levels, nourish the body, treat iron deficiency, ease menstrual cramps, combat stress and aid detoxification, among other benefits. 

 

 

Oat straw

 is a powerful herb used to relieve menstrual cramps, stabilize moods, nourish the body, support bone health, and improve libido. 

 

 

Chasteberry

 is an excellent hormone tonic for women, which helps to normalize the activity of the pineal gland, regulating the balance of estrogen and progesterone in the body.  It supports fertility, relieves PMS, and helps with menopausal symptoms including hot flashes, irregular

cycles

and depression. It also supports treatment of uterine fibroids, breast cysts and endometriosis. 

 

Horsetail herb  

is useful for bone building and overall musculoskeletal health.

 

 
Natural Herbs for Supporting Bladder Function in Women
Cranberry 

contains a molecule which prevents bacterial and viral infections from taking hold in

the

body. It's particularly useful for women in protecting against bladder infections. 

 

 

Saw Palmetto

 can be used to help treat bladder infections, reduce the effects of polycystic ovary syndrome, treat menopausal symptoms, and help treat hair loss. 
When seeking natural solutions for women's health, it's important to look at the ingredients, such as these herbs, and the benefits they can provide for long-term wellness. 
Best Multivitamin for Women
For women's targeted nutritional and wellness support, ecoNugenics offers two unique botanical-nutrient formulas. These women's multi-nutrient supplements feature many of the herbs listed above,  plus essential nutrients, to provide multi-targeted nourishment and support throughout all stages of a woman's life.  
Women's Longevity Rhythms is our botanical multi-nutrient formula for reproductive-age women.  
Women's Daily 50+ is our botanical multi-nutrient formula for women during the transitions of menopause and beyond.  
These comprehensive women's formulas promote key areas of health, including hormone balance, immunity, musculoskeletal health, vision, cognitive function, cardiovascular wellness and more.*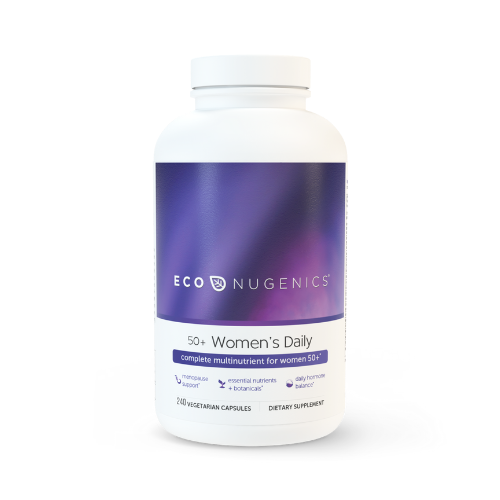 Physician-formulated for menopausal women and their health needs, this women's multivitamin is recommended for daily nutritional support for healthy aging and managing menopause symptoms.
Researched Breast Supplement
Breast health and protection is another key area where women can benefit from nutritional supplements. One of the most effective ways to maintain breast health and support long-term wellness is with powerful plant-based compounds. Why? Certain polyphenols, antioxidants, flavonoids and other targeted micronutrients found in many vegetables, fruits, spices, and other botanicals offer unparalleled benefits for breast and overall health. From supporting a healthy inflammatory response to detoxification, hormone balance and immune modulation, specific plant-based compounds and solutions deliver powerful health-promoting actions for optimal breast health. 
One study out of Harvard University's T.H. Chan School of Public Health, showed that women who consumed more fruits and vegetables – particularly cruciferous vegetables and yellow or orange colored produce – had a significantly lower risk of aggressive breast cancer. (1)   
As demonstrated by this study and many others, cruciferous vegetables like broccoli, cabbage, kale, and others in this family, offer important benefits for breast and cellular health in women. These superfood vegetables contain an abundance of compounds including glucosinolates and other phytonutrients that work together to support healthy cellular growth, detoxify the body, help balance hormones, and promote lasting immunity.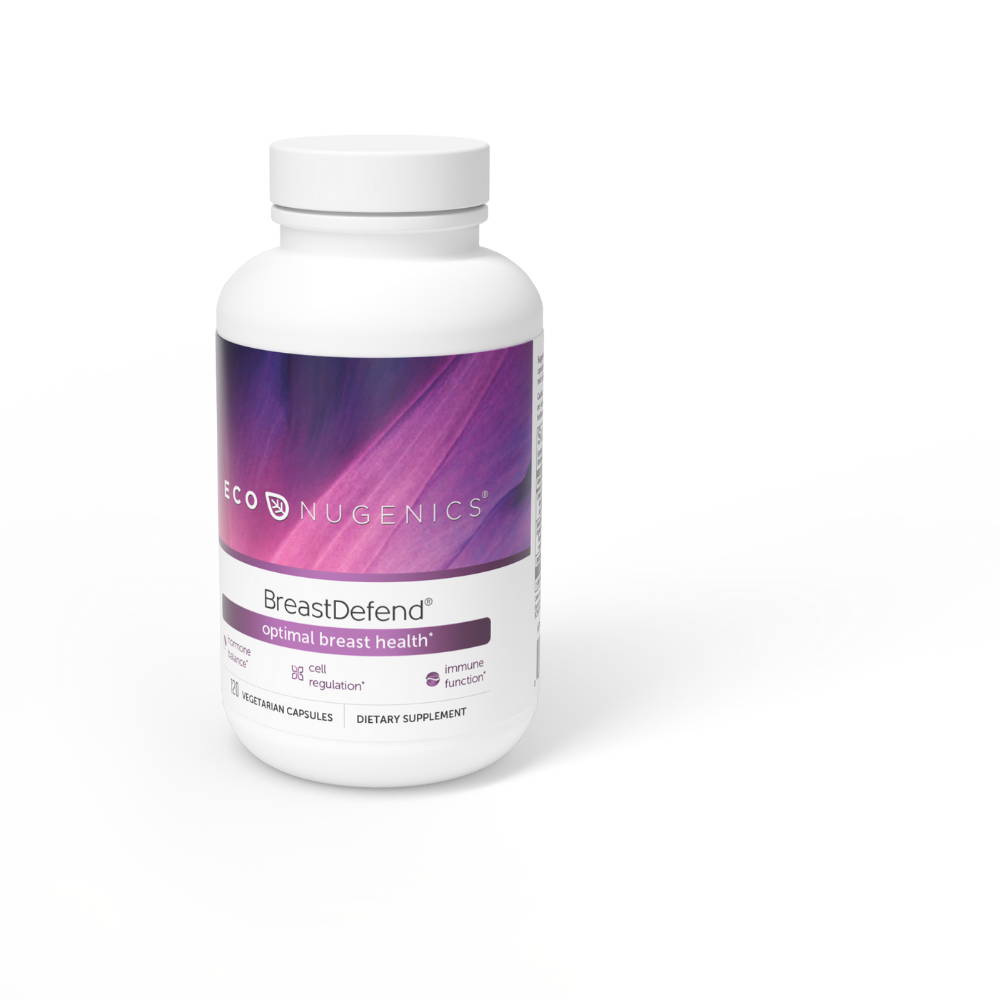 All of BreastDefend's proven effectiveness comes from a synergistic combination of eight safe, natural, and well-studied botanical ingredients*:
Researched Phytonutrient Formula for Breast Health 
For optimal breast health support and maintenance, try scientifically researched  BreastDefend. This comprehensive breast cellular health supplement is shown in 4 peer-reviewed studies to promote healthy breast cell growth and behavior on the cellular and genetic levels. Importantly, results showed benefits both in hormone positive and hormone-negative breast cells.* (2-5 )  
BreastDefend  contains the active compound DIM (diindolylmethane) which is obtained from eating cruciferous vegetables. DIM is an essential phytonutrient for breast health, with multiple benefits including healthy hormone balance. BreastDefend  also contains botanically-enhanced beneficial mushrooms, the bioflavonoid quercetin, an enhanced bioavailable extract of curcumin from turmeric root, and high-ratio extracts of Scutellaria barbata leaf and astragalus root.  
One study showed the benefits of  BreastDefend  are increased by up to 40% when used in combination with clinically researched PectaSol Modified Citrus Pectin. (4)   
Science is still just scratching the surface of the unique differences in men and women's complex biology. Once we apply this information to our individualized wellness programs, we can further enhance the foundation of vitality, and promote optimal long-term wellness, naturally.   
Sources:
Farvid MS, et al. Int J Cancer. 2018 Jul 6. doi: 10.1002/ijc.31653.  

Cheng S, Castillo V, Welty M, et al. BMC Complement Altern Med. 2017;17(1):115.

Jiang J, Thyagarajan-Sahu A, Loganathan J, Eliaz I, Terry C, Sandusky GE, Sliva D. ] Oncol Rep. 2012 Oct;28(4):1139-45. 

Jiang J, Eliaz I, Sliva D. Integr Cancer Ther. 2013 Mar;12(2):145-52.

Jiang J, Wojnowski R, Jedinak A, Sliva D. Suppression of proliferation and invasive behavior of human metastatic breast cancer cells by dietary supplement BreastDefend. Integr Cancer Ther. 2011 Jun;10(2):192-200.
---