Is Your Immune Support Clinically Proven?
Proven, Reliable Immune Support—More Important than Ever
Padma Basic® is a classical Tibetan herbal formula that delivers dynamic, multi-targeted support for robust immune function—as well as circulatory health, antioxidant activity, and more. It's been proven to work in 30+ published clinical studies.*
Produced in Switzerland under precise pharmaceutical-grade guidelines, Padma Basic blends 19 prized botanicals, herbs, and spices that are rich in beneficial plant compounds. These powerhouse phytonutrients—like antioxidants, polyphenols, and aromatic essential oils—work through diverse mechanisms to ensure that Padma Basic delivers critical benefits for health.*
And it all starts by optimizing your immune system. A swift and intelligent immune system is our most valuable health asset.
Real Research, Real Results
Clinical research on Padma Basic started in the 1950s when a Swiss pharmaceutical pioneer was introduced to this classical Tibetan formula. Since then, published studies on Padma Basic have gained momentum, as data continues to highlight its robust, multi-dimensional benefits.*
Immune Balance and Regulation
One important study showed how Padma Basic works to balance and optimize the immune system, helping it respond swiftly without over-reacting.1
Another clinical study in hundreds of subjects showed that Padma Basic worked to promote optimal immune function in the respiratory tract, resulting in long-term benefits for respiratory health and immune cell activity.2
One clinical study looked at a group taking Padma Basic for liver support. The study followed 34 adults for one year and found that Padma Basic produced significant liver-protective benefits.3
We're Constantly Hearing How Padma Basic Always Delivers
While other companies may ask that you simply believe their products are working, we're proud to provide formulas and ingredients that deliver tangible and measurable results, not just in the lab but in everyday life—results you can feel.
Padma Basic has become a modern symbol of integrative health, and ecoNugenics is proud to be the exclusive North American distributor of this iconic health formula. The combination of ancient herbal wisdom and leading-edge scientific research offers us a powerful, safe and effective solution proven to optimize our most critical areas of health—starting with immunity.*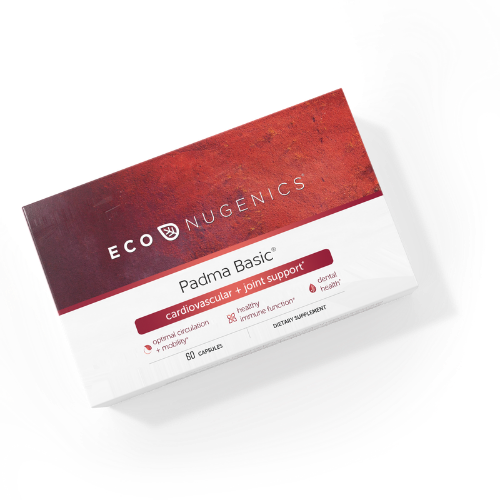 A clinically-proven herbal supplement based on a classical Tibetan formula, shown in over 50 published studies to provide comprehensive support for cardiovascular, immune and other key areas of health.*
Sources:
1) Ginsburg I, et al. Inflammopharmacology 1999;7(1):47-62.
2) Jankowski S, et al. Phytother Res 1991;5:120-3.
3) Gladysz A, et al. Phytother Res 1993;7:244–7.
*These statements have not been evaluated by the Food and Drug Administration. These products are not intended to diagnose, treat, cure or prevent any disease.
---