One of the Most Researched Formulas in the World
In the realm of dietary supplement research, it can be hard to find clinical studies that demonstrate the benefits of herbs and nutrients in humans. But this isn't the case for ecoNugenics products. As leaders in nutraceutical research, innovation and development, we're proud to offer some of the most-advanced and effective formulas for today's most critical areas of health—as shown in a growing number of peer-reviewed studies.*   
This is why more medical providers, researchers and health-savvy consumers rely on ecoNugenics evidence-based solutions for safeguarding and supporting long-term health. Our products demonstrate broad-spectrum effects, working to address root causes while building long-term vitality.*   
Padma Basic—One of the Most Researched Formulas Today
One of our most extensively researched products is Padma Basic. Based on a classical Tibetan herbal preparation, this Swiss-made formula is backed by over 30 published clinical studies, and hundreds of published scientific studies over the last 60+ years.  
This extensive amount of peer-reviewed data shows that Padma Basic works through multiple mechanisms to offer a wide range of vital benefits:  
Cardiovascular health*

 

 

Cellular function*

 

 

Immune balance*

 

 

Dental health*

 

 

Heart health and circulation*

 

 

Joint comfort and mobility*

 

 

Respiratory health*

 

 

A

ntioxidant

activity

*

 

 

Skin health*

 
Padma's Antioxidant Benefits Support Healthy Aging
One recent study published in BMC Complementary and Alternative Medicine showed that Padma Basic offers powerful antioxidant benefits and inhibits the formation of Advanced Glycation End Products (AGEs) and Advanced Oxidation Protein Products (AOPPs). These are the toxic by-products of free radicals and oxidative stress, formed by the body's response to excess sugar, overcooked or heavily processed foods, environmental toxins, and other influences. AGEs and AOPPs are shown to impact numerous areas of health including cardiovascular and metabolic health, while accelerating the aging process.*  
Other research shows Padma Basic can help to increase walking distance, support athletic recovery after exercise and promote healthy circulation. The formula's superior antioxidant abilities also make it an excellent solution for areas of health impacted by oxidative stress from toxins and free radicals: Cardiovascular health, neurological wellness, metabolism, detoxification, cellular health and others.*   
Padma Basic also supports oral and dental health, making it an excellent adjunct for maintaining healthy teeth and gums.*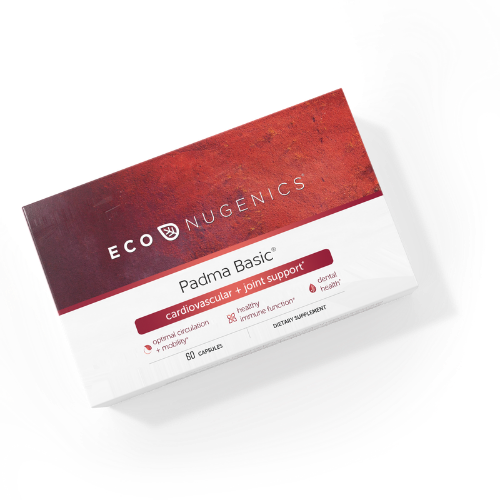 A clinically-proven herbal supplement based on a classical Tibetan formula, shown in over 50 published studies to provide comprehensive support for cardiovascular, immune and other key areas of health.*
How can one herbal formula work so well across so many health applications? In part, the answer can be found in its adaptogenic properties.   
An adaptogen is an herb that helps the body regulate multiple systems and areas of health. For example, if immunity is out of balance, adaptogens can help promote optimal immune function.   
Essentially, Padma Basic works to bring the many systems of the body into harmony, for long-term wellness and vitality. The botanicals in Padma Basic are rich sources of powerful phytochemicals that work together synergistically, offering targeted benefit for the body's most vital systems.*  
Many of the herbs in this formula are cultivated in the pristine foothills of the Himalayas, and within small herb farms in Switzerland. Ingredients include Icelandic moss, cardamom fruit, costus root, bael tree fruit, golden cinquefoil herb, chebulic myrobalan, red saunders, and others.  
Tibetan herbalism is a highly sophisticated system dating back thousands of years. However, when Tibet became threatened with occupation around the 1950s, much of this herbal knowledge was lost.   
Only a relatively small collection of these ancient formulas survived, due to the preservation work of refugees and their allies. Among these formulas was the treasured Padma Basic, passed down over generations of herbalists to become one of the most extensively researched botanical formulas in the world.*   
Substantiated by a growing body of scientific data, this ancient blend has become a symbol of integrative health today. The combination of ancient herbal wisdom and leading-edge scientific research offers us a powerful, safe and effective formula which offers comprehensive support for numerous areas of health.*  
Discover Padma Basic with the confidence that comes with 60+ years of research and published clinical data.*   
---
Source:  
Grzebyk E, Piwowar A. The Tibetan herbal medicines Padma 28 and Padma Circosan inhibit the formation of advanced glycation endproducts (AGE) and advanced oxidation protein products (AOPP) in vitro. BMC complementary and alternative medicine. 2014. 14. 287. 10.1186/1472-6882-14-287.
---