Time to Defend Against Pesticides with GlyphoDetox
We understand how discouraging it can be. You try to eat clean and live toxin-free yet… pesticides, herbicides and other agricultural chemicals find their way inside your body. And once they're in, they can be hard to get out!
Mounting evidence shows many common agricultural chemicals nest for years in your tissues and organs, causing a host of issues. Plus, these chemicals contain especially damaging toxins…like glyphosate.
If you aren't already aware of glyphosate, then google it…if you dare. You'll quickly see this toxin is as abundant as it is dangerous. Stacks of conclusive proof now show glyphosate either directly triggers or is linked to a long list of the top health issues you most definitely want to avoid.
Weeding Through the Research
Through his extensive work helping patients thrive in virtually every health situation, ecoNugenics lead formulator, Dr. Eliaz has become hyper-aware of the damaging effects chemical exposures create. He leans constantly on his deep detoxification knowledge to help his patients achieve optimal outcomes. For decades, his clinically proven cleansing strategies have measurably reduced environmental toxins and improved detox processes—delivering a wealth of noticeable benefits.
Motivated by the increasingly alarming impact of glyphosate and other pesticides and agricultural chemicals, Dr. Eliaz began targeting their specific removal from the body.
The goal was two-fold:
Safely remove these pervasive toxins
Prevent them being stored in critical organs and tissues
After much research, trial and careful observation, Dr Eliaz is pleased to release a new and very targeted formula designed specifically for removal and defense against pesticides, herbicides and agricultural chemicals.
Meet your newest ally in the war against the modern toxic plague…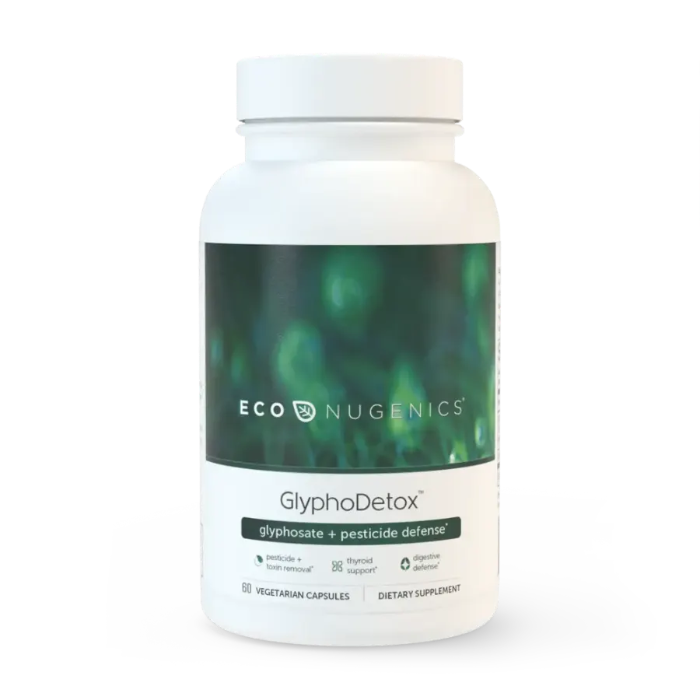 The first supplement of its kind to actively detox and defend against pesticides, GlyphoDetox promotes gut health and nutrition with powerful antioxidants and essential detox nutrients.
With an expert blend of natural detox ingredients, GlyphoDetox works to remove toxic pesticides and agricultural chemicals, including glyphosate, from your body. It also helps prevent these and other chemicals from being stored in sensitive organs and tissues like your thyroid.*
In today's world, managing your exposure to pesticides and other agricultural chemicals has never been more important. Yet the unfortunate truth is…no matter how vigilant you are…it's nearly impossible to avoid toxins altogether.
Using GlyphoDetox can give you a simple, reliable, and likely new advantage in your never-ending battle against toxic body burden.
You can start today to better shield yourself against the health-robbing pesticides, herbicides and agricultural toxins—safely and naturally.*
Try GlyphoDetox today!
---