Get the Most Out of Your PectaSol Routine
Find Your Perfect Dose of PectaSol
With 76+ published studies and decades of outstanding clinical success, PectaSol is proving itself as an important daily supplement. This clinically proven super-nutrient is a powerful natural solution for protecting and promoting healthy aging and long-term wellness.*   
And the dose makes all the difference.  
Whether you are looking for greater energy and immunity, joint comfort and mobility, daily detoxification, or more advanced benefits for intensive long-term support—taking the right dose of PectaSol can help ensure you get your desired results*  
Taking PectaSol at the recommended and relevant dose for your needs offers the highest level of support for optimal health outcome.*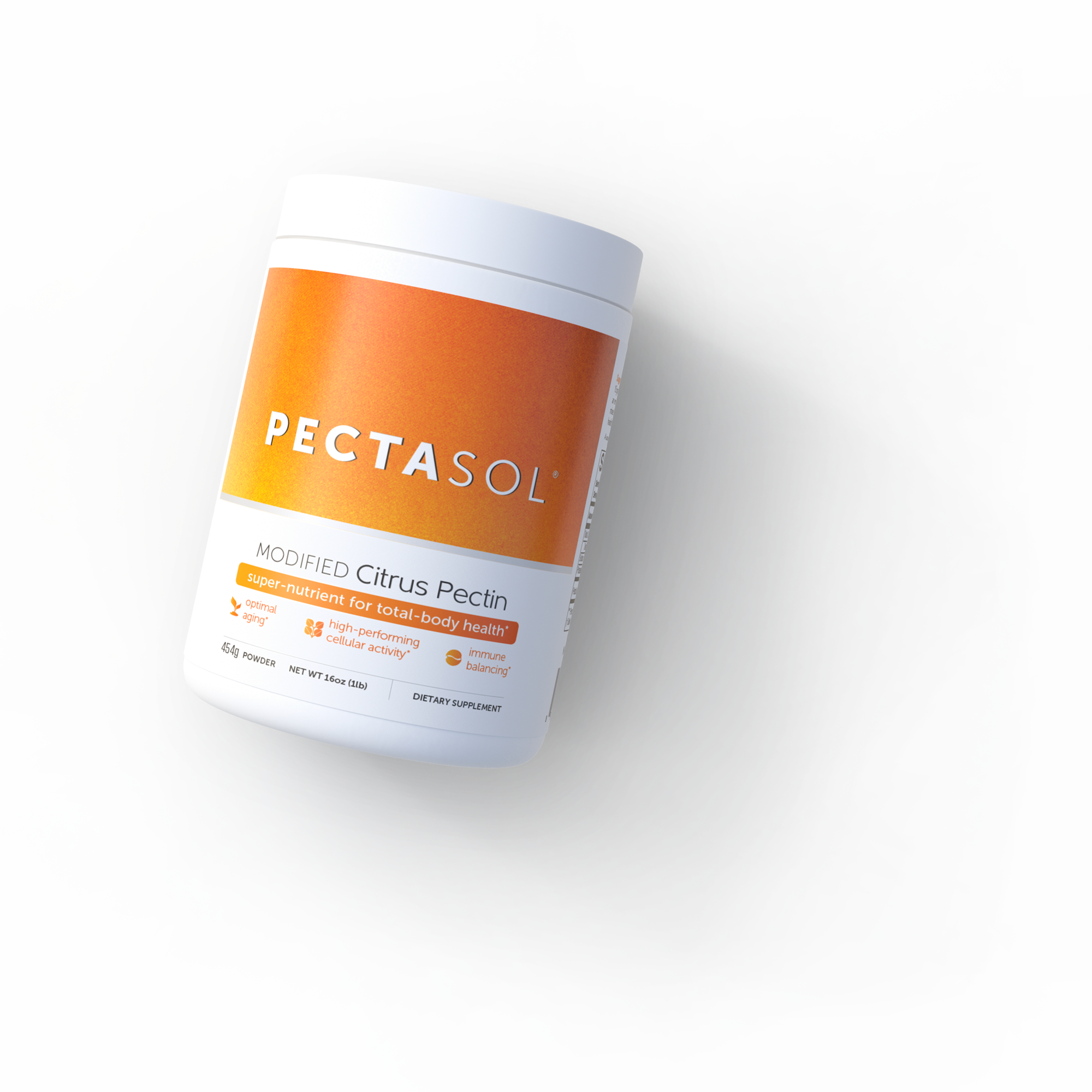 Formulated by award-winning Integrative Medicine expert and best-selling author, Isaac Eliaz, MD, PectaSol is the leading supplement for enhancing the body's most essential self-healing mechanics.
What Daily Dose of PectaSol Modified Citrus Pectin Do I Need?
PectaSol dosages range from ~5 grams per day (1 scoop or 6 capsules) for daily wellness support and healthy aging, to ~15 grams per day (3 scoops or 18 capsules) for advanced detoxification, cardiovascular, oncological/cellular support, and more.*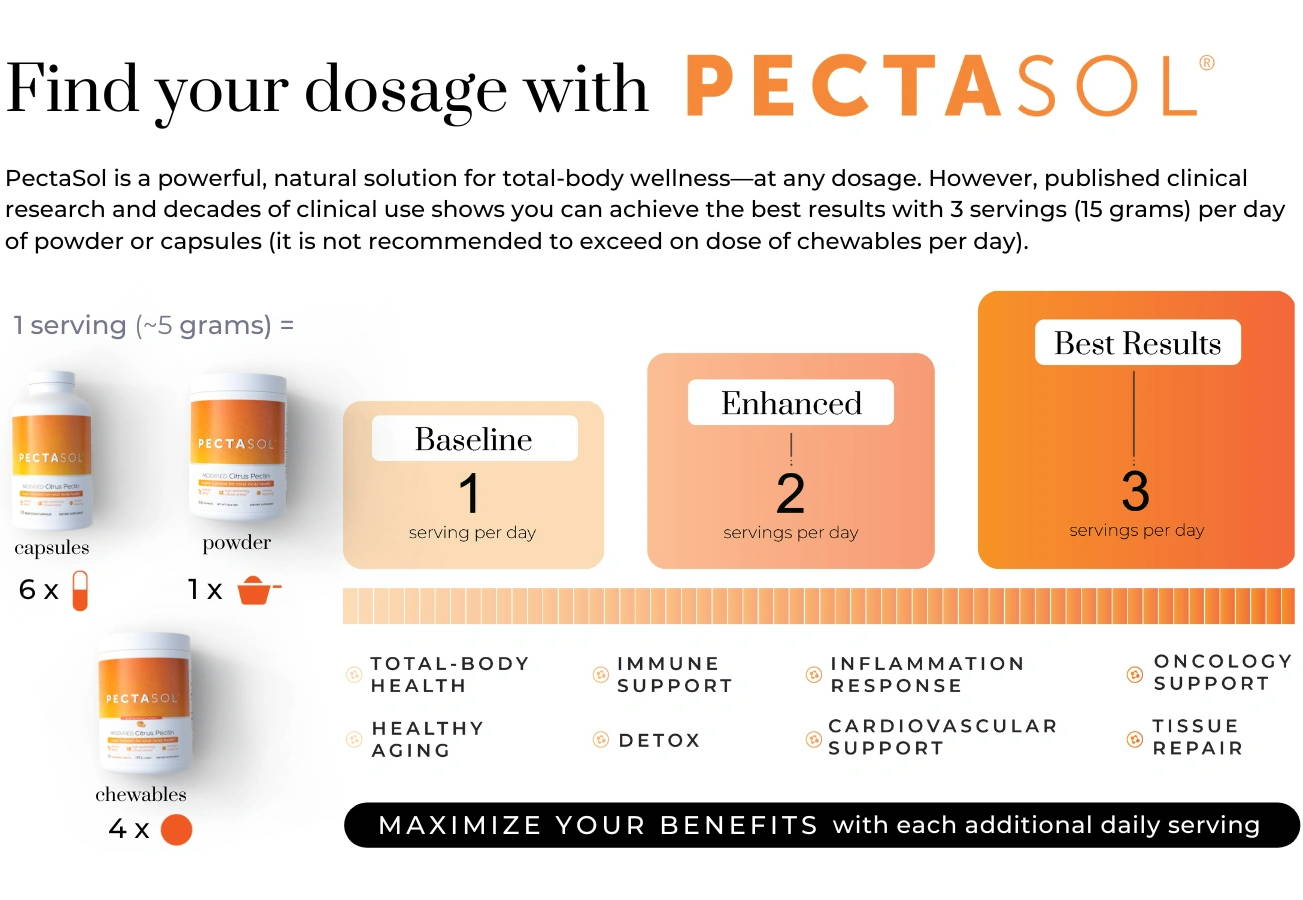 Baseline Daily Wellness Support
5 grams per day (1 scoop | 6 caps | 4 chewables)
Recommended for: 
Daily wellness and vitality*

 

Healthy aging*

 

Long-term health maintenance*
10 grams per day (2 scoops | 12 caps)
Recommended for: 
Immune balance*

 

Healthy inflammation response*

 

Joint and mobility support*
15 grams per day (3 scoops | 18 caps)
Recommended for: 
Oncological Nutritional Support*

 

Neurological Support*

 

Cardiovascular, Kidney, and Liver Health*

 

Heavy Metal Detoxification*

 

Tissue repair*

 
While results may vary, most people feel a difference after a few weeks of taking PectaSol as part of their daily health routine.*  
If you don't feel something right away, don't worry! Not everyone will physically feel a difference, but it's important to remember that when taken as recommended, PectaSol is proven to absorb quickly into the circulation to give you powerful benefits at the cellular level, supporting optimal body functions, toxin removal, healthy immune and inflammation responses, and more.* 
How to Mix PectaSol Powder
Watch the tutorials below to learn how to mix PectaSol Powder so that it dissolves!
See what others are saying:
Feel better already! I've only been using it for 3 weeks, but can notice a difference in my overall energy and sense of well-being as soon as I get out of bed.
- Brad 
I'm going through a detox now and I feel such a difference with this product in my regimen. Highly recommend!
- Julia
I definitely get an energy boost and a sense of well-being when I take this product. Some days I forget to take and I can tell the difference so now trying to be more regular with taking it. I will continue to use because it just makes me feel good.
- Jo
Have questions about your dose? Schedule a call with one of our product experts to help you discover your perfect routine.
---