Our best-selling immune formula

Made with US-grown, hypoallergenic mushroom mycelium

Available in powder or capsules

Quality Assurance exceeds Good Manufacturing Practices (GMP)
Active dose (max. support): 6 capsules or 1 scoop, 3 times per day
Maintenance dose: 3 capsules or 1/2 scoop, 1-2 times per day

For powder, mix one scoop in 8 oz hot water
Forms: Vegetarian capsules or powder for mixing in hot water

Sizes: 120 gram powder | 60 capsules | 180 capsules

Serving Size: 4g scoop (powder) or 6 capsules

Servings: 30 (powder) | 10 (60 capsules) | 30 (180 capsules)
Dairy Free

Nut Free

Vegetarian/Vegan
Highlights
Our best-selling immune formula

Made with US-grown, hypoallergenic mushroom mycelium

Available in powder or capsules

Quality Assurance exceeds Good Manufacturing Practices (GMP)
Recommended Usage
Active dose (max. support): 6 capsules or 1 scoop, 3 times per day
Maintenance dose: 3 capsules or 1/2 scoop, 1-2 times per day

For powder, mix one scoop in 8 oz hot water
Details
Forms: Vegetarian capsules or powder for mixing in hot water

Sizes: 120 gram powder | 60 capsules | 180 capsules

Serving Size: 4g scoop (powder) or 6 capsules

Servings: 30 (powder) | 10 (60 capsules) | 30 (180 capsules)
Dietary Restrictions
Dairy Free

Nut Free

Vegetarian/Vegan
The power of
Complete Immune Support


Train and Balance Your Immune System

MycoPhyto blends six powerful mushrooms plus additional beta-glucans, that work to train, balance and fine-tune immune responses and optimize your defenses, without triggering an immune over-reaction.*

Enhanced energy and stamina
MycoPhyto functional mushroom supplement is a rich source of potent beneficial compounds that provide total-body support for increased energy, stamina and endurance, and optimal vitality.*

Support Against Occasional Cold Symptoms

MycoPhyto delivers intensive immune fortification for powerful support against occasional colds and flu symptoms.*

The functional mushrooms in MycoPhyto help you maintain healthy blood sugar levels, and support a healthy gut and metabolism.*

Healthy Cellular Function

MycoPhyto is shown in research to deliver essential support for cell regulation, with botanically-enhanced functional mushrooms that optimize immune defenses and promote healthy cellular function.*

Cardiovascular and Respiratory Health

The mushrooms in MycoPhyto provide essential benefits for cardiovascular function and long-term respiratory health and defense.*
The power of
Complete Immune Support


Train and Balance Your Immune System

MycoPhyto blends six powerful mushrooms plus additional beta-glucans, that work to train, balance and fine-tune immune responses and optimize your defenses, without triggering an immune over-reaction.*

Enhanced energy and stamina
MycoPhyto functional mushroom supplement is a rich source of potent beneficial compounds that provide total-body support for increased energy, stamina and endurance, and optimal vitality.*

Support Against Occasional Cold Symptoms

MycoPhyto delivers intensive immune fortification for powerful support against occasional colds and flu symptoms.*

The functional mushrooms in MycoPhyto help you maintain healthy blood sugar levels, and support a healthy gut and metabolism.*

Healthy Cellular Function

MycoPhyto is shown in research to deliver essential support for cell regulation, with botanically-enhanced functional mushrooms that optimize immune defenses and promote healthy cellular function.*

Cardiovascular and Respiratory Health

The mushrooms in MycoPhyto provide essential benefits for cardiovascular function and long-term respiratory health and defense.*
Hear what our customers
have to say.

"I LOVE this product. Great to know that I am able to get the amazing benefits of mushrooms with just a few pills. Been super healthy all winter and longer since taking this. I Highly recommend it!!"
- Lisa o.
"I'm amazed by how much better I feel overall since I started taking MycoPhyto Complex. I have so much energy and I feel great! Highly recommend it to anyone who wants to protect their health and feel energetic all day long." 
- Tara W
"I love MycoPhyto! I have been using it for literally years! I am convinced of the power of mushrooms! I have definitely been healthier and get sick less often since I started taking the MycoPhyto ... and I am a public school teacher!" 
-Janie M
"My daughter convinced me to take 3 capsules of  MycoPhyto  twice a day, and I'm so thankful of her.  MycoPhyto works for me as an immune booster. It allows my body to be in a stable mode and allows me to feel great without being sick, even once I'm around sick people."
- M. Shavit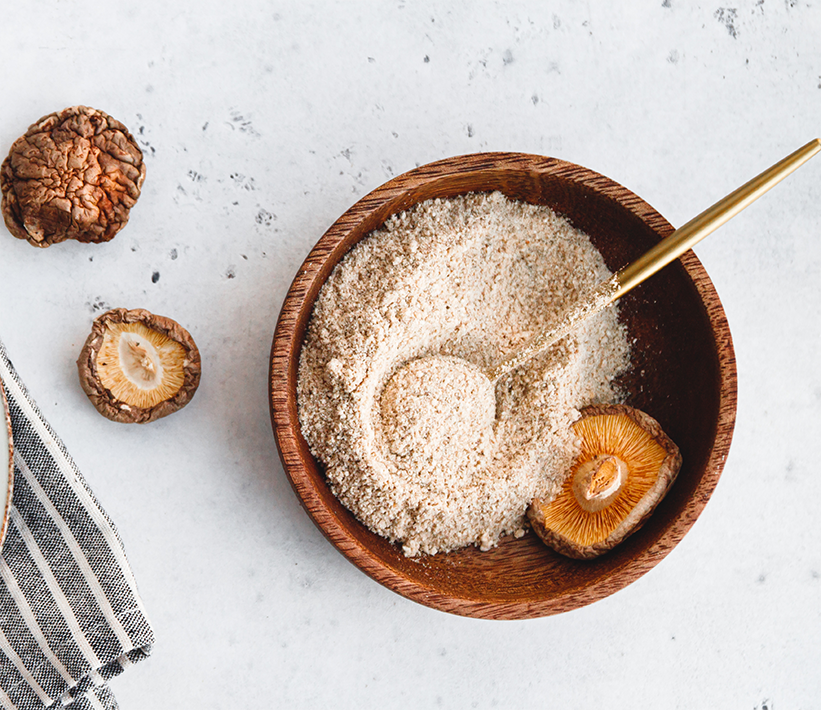 Make Your Immune System Work Smarter Not Harder

---
MycoPhyto Complex contains six beneficial mushroom varieties, produced with a revolutionary method, allowing the mushrooms to absorb and assimilate the benefits of the herbs and nutrients, for enhanced benefits.* MycoPhyto's blend of six powerful medicinal mushroom varieties work together to upgrade your immunity:
Maitake

Reishi

Turkey tail

Cordyceps

Umbellatus

Agaricus
Active Ingredients: Coriolus (Trametes versicolor), Reishi (Ganoderma lucidum), Agaricus (Agaricus blazei), Cordyceps (Cordyceps Sinensis isolate), Umbellatus (Polyporus umbellatus), Maitake (Grifola frondosa), Beta-1, 3-glucan

Other Ingredients: Vegetable capsule (natural vegetable cellulose, water), magnesium stearate, stearic acid, silicon dioxide, microcrystalline cellulose.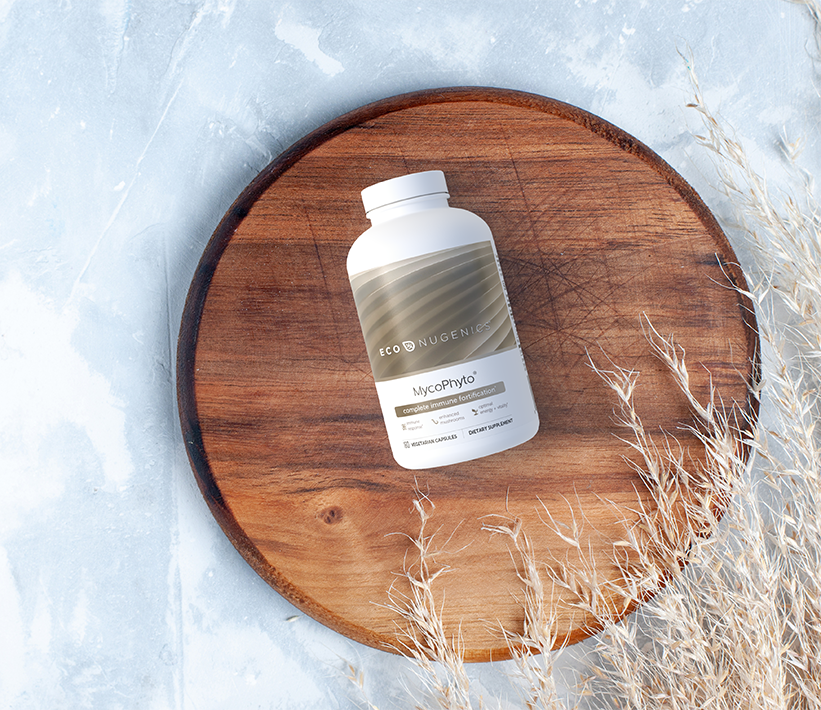 The Immune-Modulating Power of Botanically Enhanced Mushrooms

---
Mushrooms excel at absorbing nutrients from their environment. MycoPhyto is the original botanically-enhanced mushroom formula, grown on a potent blend of supportive herbs to fortify the mushrooms with additional beneficial compounds for intensive immune benefits.*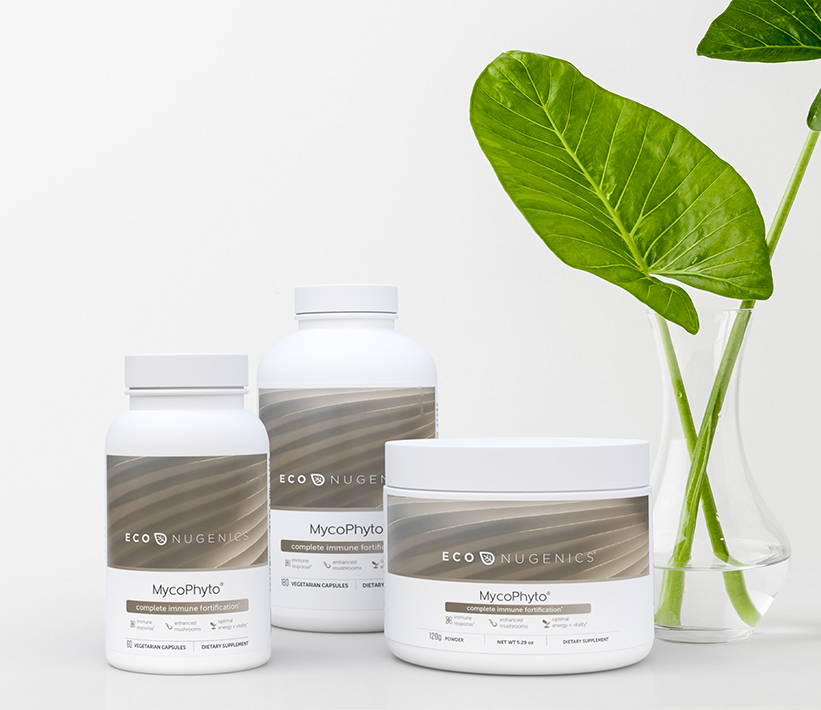 MycoPhyto is perfect if you want:

---
Complete immune support
To defend your immune system against occasional cold symptoms
Your immune system to work smarter, not harder
To create energy that lasts
To feel healthy, no matter the season
For optimal immune health and balance, MycoPhyto can be used with Pectasol, offering broad-spectrum support for overall wellness.*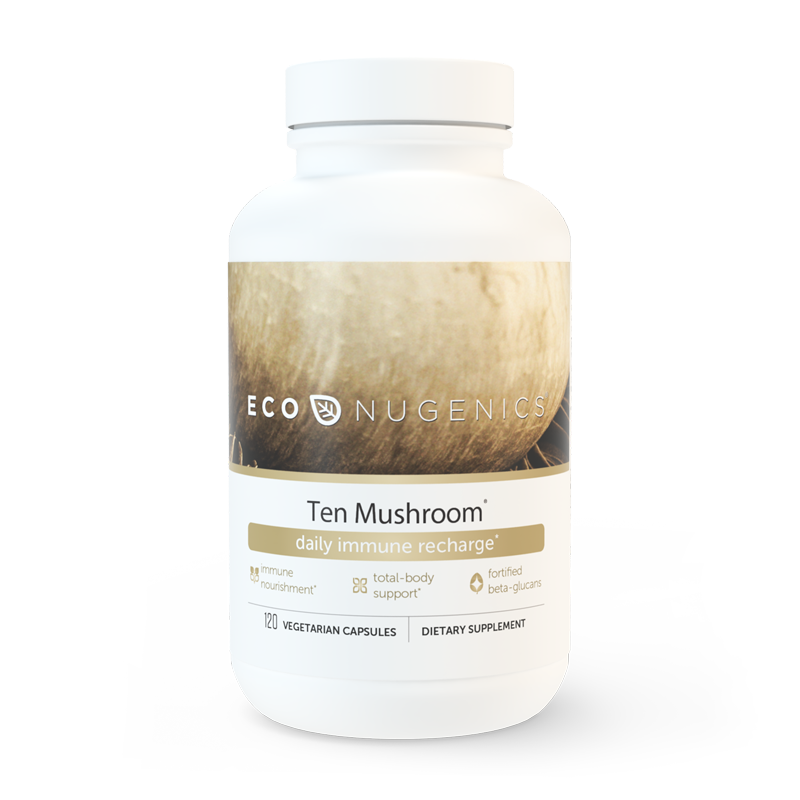 For full-potency mushroom support, MycoPhyto combined with Ten Mushroom provides comprehensive immune and total-body benefits.*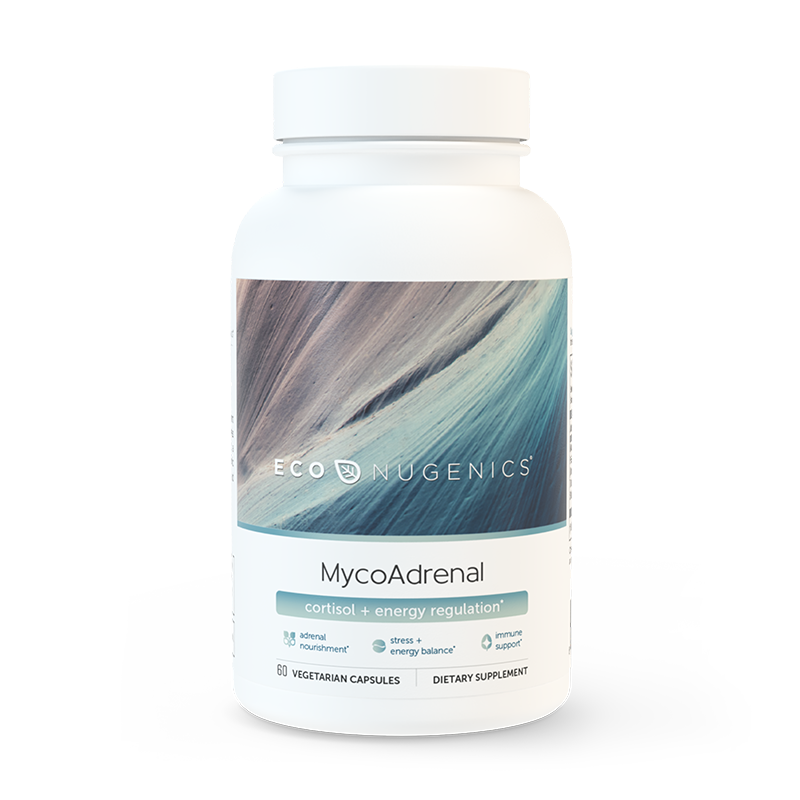 For optimal energy support, MycoPhyto can be used with MycoAdrenal to promote balanced adrenal function and overall vitality.*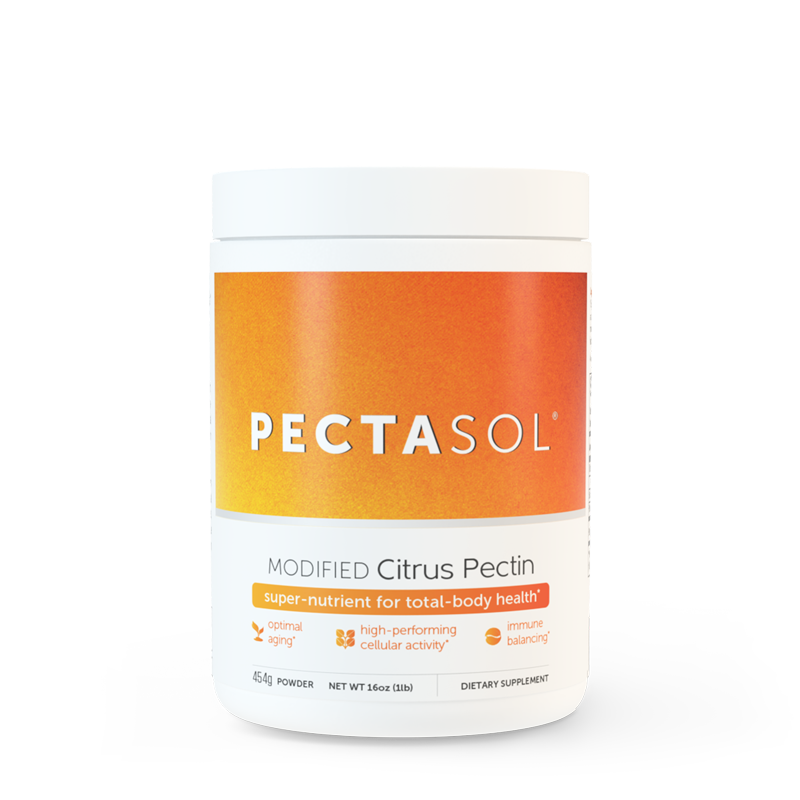 For optimal immune health and balance, MycoPhyto can be used with Pectasol, offering broad-spectrum support for overall wellness.*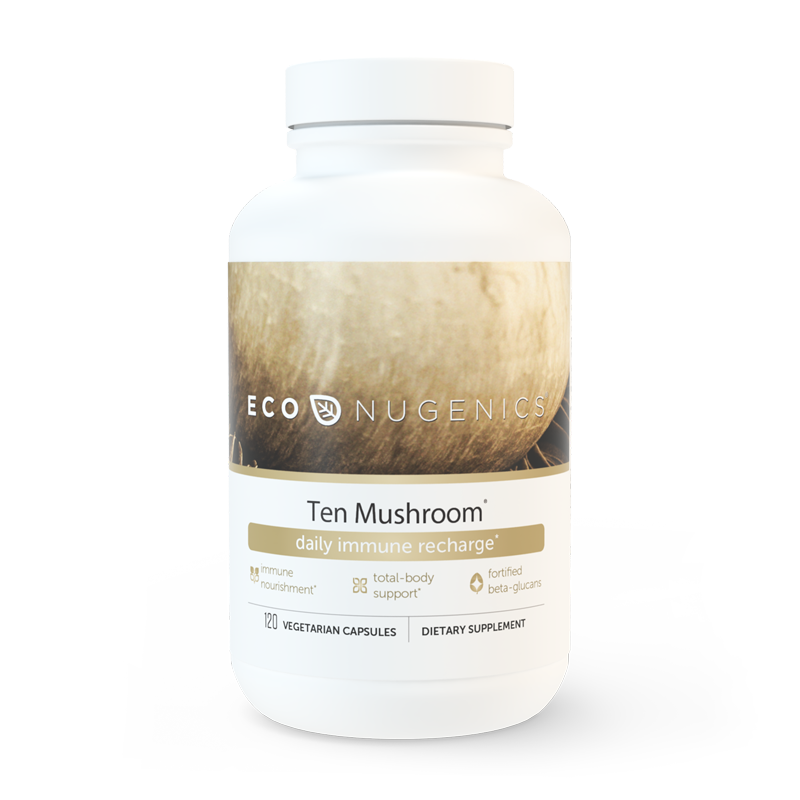 For full-potency mushroom support, MycoPhyto combined with Ten Mushroom provides comprehensive immune and total-body benefits.*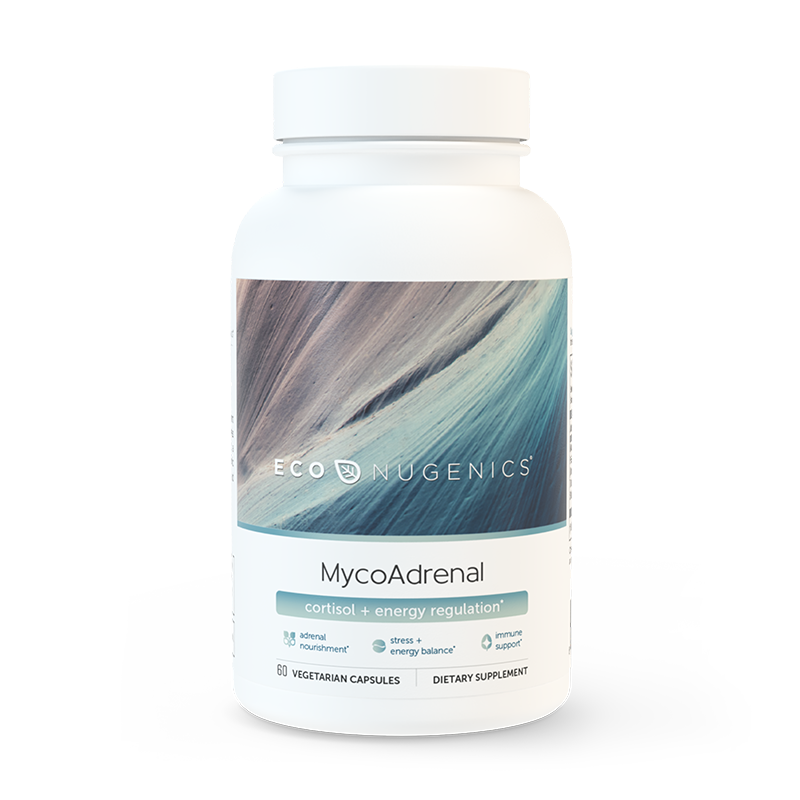 For optimal energy support, MycoPhyto can be used with MycoAdrenal to promote balanced adrenal function and overall vitality.*
View MycoPhyto Supplement Facts
MycoPhyto Complex® 60 capsules

MycoPhyto Complex® 180 capsules

MycoPhyto Complex® 120 gram powder