FREQUENTLY ASKED QUESTIONS
How does the Stock Up and Save Program Work?

To make it as easy as possible for our customers to stock up and save, we have improved and simplified our shopping experience! Now, you can simply select from the QTY dropdown either a 3-Pack (10% savings) or a 6-Pack (15% saving) and add to you cart. No promo codes, no confusing calculations—it's that simple! You can also subscribe to any of these deals to save an additional 15% + free shipping on every recurring order and save up to 28%!
Can I combine Stock Up Savings with other promos?

Now that we have added built-in savings into our products, there will be fewer discount-code deals available. However, when we do make them available, you can stack promo codes with our 3-Packs and 6-Packs.
Where did the Buy 3/5/7 Get 1/2/3 Free deals go?

Due to popular demand, these have been replaced by 3-Packs (10% savings) and 6-Packs (15% savings) which can be easily accessed via the QTY dropdown at the top of the product page:

No more confusing calculations or promo codes—all discounts are applied as soon as you add to cart. These offers also stack with our Subscribe & Save program, allowing you to save up to 28% on your orders + free shipping!
Do I need to enter a promo code to receive my discounts on 3-Packs, 6-Packs, and Subscribe & Save?

Nope! Your discounts are built into the product, so all you need to do is add to cart and checkout.
Can I add custom amounts of bottles to my cart?

Yes, you can do so in your cart but you won't receive the 3-pack and 6-pack discounts unless you select them from the product page drop down. In other words, if the customer wants to buy 4 bottles, the customer must select a 3-Pack, return to the product page then add 1 Bottle to the cart so they receive the discount from the 3-Pack. They will not receive the 3-Pack savings if they add 1 Bottle to their cart then manually increase to 4.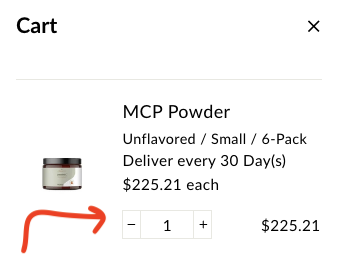 Can I combine stock up Savings with other promos?

Yes! Simply select Subscribe & Save for the product of your choice, add to cart, then exit the cart and continue shopping. Once you find the additional products you wish to subscribe to, add to cart and check out once you are finished shopping! Just make sure you have selected subscribe and save instead of one-time purchase.
Do I get free shipping and save 15% on EVERY Subscribe & Save order?

Yes, but only for domestic orders.
How do I make changes to or cancel my subscription?

You can access your subscription plan by signing in or creating an account using the same email you used at checkout here.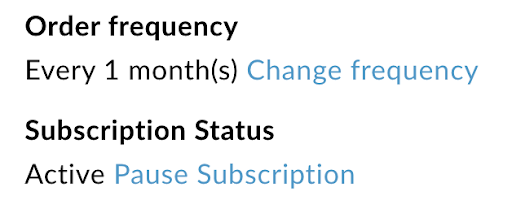 Can I use a one-time discount code on a Subscribe & Save order?
One-time discount codes do not apply to Subscribe & Save orders—only one-time purchases.
Does the Subscribe & Save program work for International orders?
Unfortunately, we are not currently offering our Subscribe & Save program to our International buyers, but we are hoping to add this feature in the future.
What if the product I subscribed to is out of stock?
Customer service will notify you, and provide an estimated arrival of your next shipment. You will not be billed until your order is fulfilled!
How can I save the most money with Subscribe & Save and Stock Up & Save?
You can save the most by subscribing to our 3-Packs and 6-Packs. Have a look:

Why aren't all of PectaSol's products on one page?