Ask Dr. Eliaz: How Can I Support Optimal Brain Health?
As founder and formulator of ecoNugenics, Dr. Isaac Eliaz brings over 30 years of clinical and research experience to develop some of the most advanced and effective natural solutions that address today's most critical areas of health.
Alzheimer's disease and other forms of dementia are on the rise today, and showing up in younger populations. There are many possible causes for this increase, as researchers show how ongoing neuroinflammation from environmental toxins, unhealthy foods, infections, stress, sedentary lifestyle, and other factors can damage the brain and nervous system. Neuroinflammation can contribute to changes in the brain that can lead to neurological diseases and cognitive decline, including dementia. This is why it's so important to actively promote brain health with daily strategies including regular exercise, proper sleep, healthy stress relief, and an anti-inflammatory diet, to give your brain the support it needs for peak performance.    
Research also demonstrates the benefits of specific herbal extracts, nutrients, antioxidants, and other natural ingredients to provide powerful support and protection for brain function and long-term neurological health. These ingredients are becoming known as "nootropics" – a term used to describe compounds that have a positive effect on brain activity.
One of my top recommendations for powerful brain and neurological health support, is a versatile nootropic called HonoPure pure honokiol. Honokiol is a potent, extensively researched botanical extract purified from Magnolia officinalis bark. It is shown to deliver unique benefits for brain and neurological function, healthy stress relief, sleep, cellular regulation, and more. Honokiol has the unique ability to cross the blood-brain barrier, allowing it to actively support brain health and healthy neuroinflammation responses, encourage optimal neurotransmitter activity, and promote relaxation, mental clarity, and deep, rejuvenating sleep.1*   
My other recommendation for brain health is PectaSol Modified Citrus Pectin, thanks to the vast amount of research on this unique ingredient. PectaSol is shown to support and defend cognitive health, by blocking a protein in the body called Galectin-3. Extensive research shows that galectin-3 drives neuroinflammation and brain degeneration. PectaSol is also shown to strengthen and defend the blood-brain barrier against invading microbes, toxins, and other threats to cognitive health.2,3*
Research shows that PectaSol and HonoPure work synergistically together, offering more powerful support for healthy inflammation responses and antioxidant activity.4*
HonoPure and PectaSol form the foundation of ecoNugenics best-selling Brain Health bundle, to optimize, enhance, and defend cognitive function and neurological wellness, naturally.*
See what others are saying:
"I have suffered from intense migraines since childhood. The day I received my HonoPure and PectaSol, I had a migraine that would not go away. That evening I took 1 HonoPure and 2 PectaSol. I slept deeply and woke up without a headache. I have been taking both for 2 1/2 weeks now, at an increased dose. The difference in my migraines/headaches is such a relief."
—Linda M.
Discover the benefits of HonoPure + PectaSol for optimal brain and neurological health today.*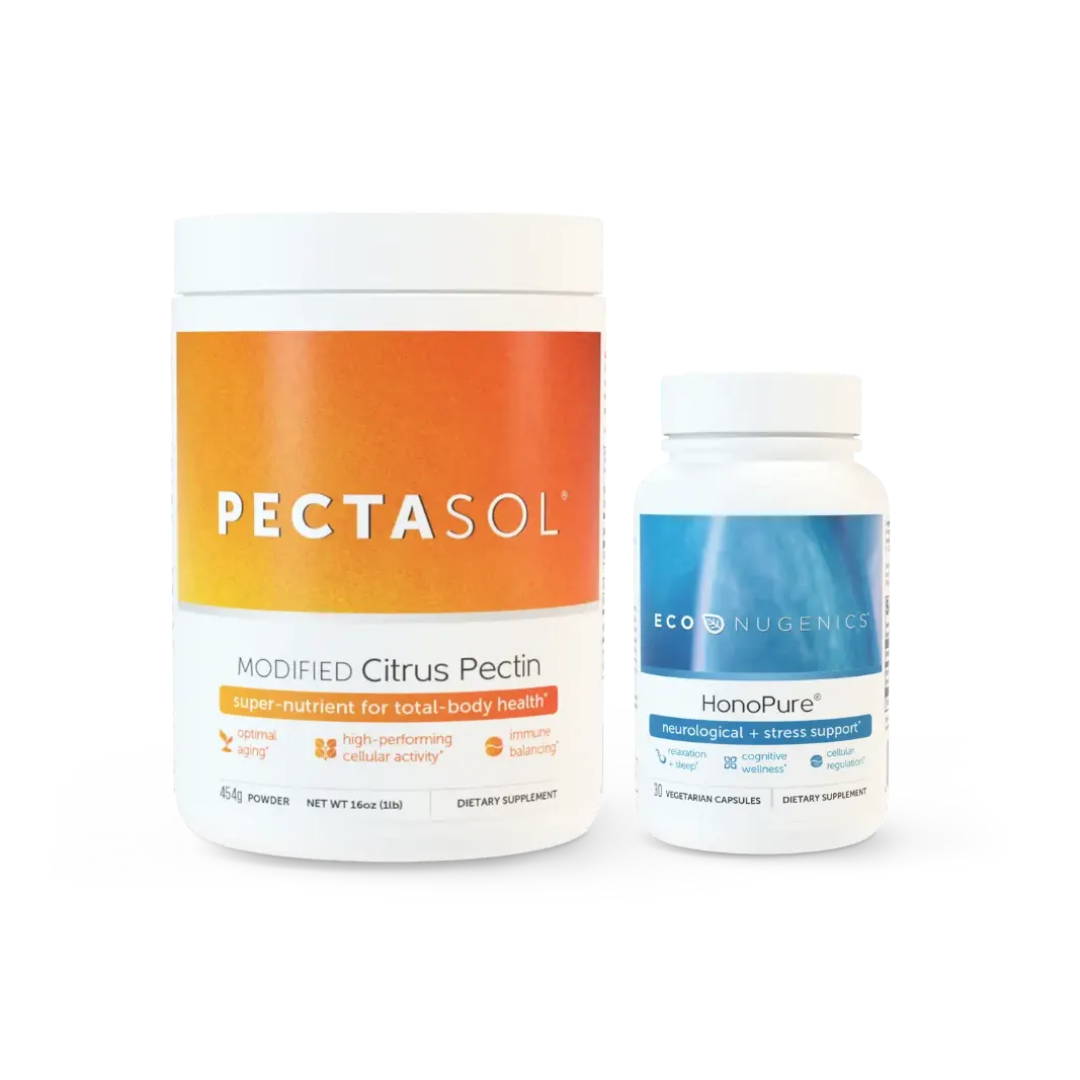 Dr. Eliaz's clinically recommended protocol delivers powerful support for optimal brain defense and neurological rebalancing—with 2 extensively researched ingredients that optimize neurological health and cognitive function at the source.
Sources:
Talarek S, Listos J, Barreca D, et al.

Biofactors

. 2017 Nov;43(6):760-769.

Nishikawa H, Liu L, Nakano F, et al.

Stroke

. 2018 Nov;49(11):2743-2751.

Yin Q, Chen J, Ma S, et al.

J Inflamm Res

. 2020 Sep 15;13:533-542.

Ramachandran C, Wilk B, Melnick SJ, Eliaz I. Evid Based Complement Alternat Med

. 2017;2017:8379843.
*These statements have not been evaluated by the Food and Drug Administration. This product is not intended to diagnose, treat, cure or prevent any disease
---