Winter Skincare Routine: Tips for Hydrated Skin
With the cold, wet winter weather, it may come as a surprise to learn that this is the season skin suffers the most, from dryness, environmental damage, and even, appearance.
How the Winter Weather Affects Your Skin
As temperatures drop, the cold pulls moisture out of the air, and from your body. Add in the drying aspect of indoor heating with minimal ventilation, and your skin can quickly become dry, chapped, flaky, itchy and uncomfortable. You may notice more fine lines and wrinkles, along with signs of skin inflammation or irritation that can come from overindulging in holiday treats and alcohol. And if you're like so many of us, and your workout routine goes into hibernation during cold months, you'll see the negative impacts in your skin as well, including puffiness, and and overall look.  
 
Keeping your skin well hydrated and nourished, both outside and from within, can prevent the cold weather from harming your skin. Try adding these tips to your winter skincare routine for extra support:
Tips for Healthy Skin in the Winter
1. Protect Skin with Natural Moisturizers
Your face is the most exposed area of skin that bears the brunt of frosty weather. In the winter, switch to a heavier moisturizer that's rich in natural hydrating ingredients like shea butter, cocoa butter, hyaluronic acid, as well as antioxidants, to help keep your skin from losing essential moisture, and prevent damage from cold weather. This can also be used on other areas like your back and arms, that aren't directly exposed to the elements but can still show symptoms of dryness and discomfort.  
2. Include More Healthy Fats in Your Diet
Consuming omega-3 fats from cold water fish, walnuts, flax and chia seeds, and more can help moisturize your skin from the inside out, and prevent rashes, flaky skin, and other symptoms of dryness and damage. These essential fats can also help boost mood and energy, support healthy weight, balance immunity, and reduce inflammation throughout your body, benefiting your skin as well.1  
3. Humidify Your Environment

An indoor humidifier is excellent during the winter because it reduces the dryness in your environment—a must when your indoor thermostat is cranked up. Central heat can dry out your environment significantly, which not only wreaks havoc on skin but also allows viruses to spread more easily. Keeping your indoor air humidity between 30-50% in the winter can help protect skin and overall health.2 
Most people don't realize that you can get a sunburn on cloudy days. With snow reflection at higher altitudes, and you could be getting up to 80% more solar radiation which can cause serious sunburns. Add in the dryness factor, and you can get serious skin damage that occurs during the winter—similar to freezer burn.3 
So don't skip your sunblock just because the weather is cooler. Look for a sunblock with at least 30 SPF for optimal defense.  
5. Remind Yourself to Hydrate

In cold weather, your body's thirst signals can drop by up to 40%, while at the same time, your urine production increases and you lose more moisture through the lungs…setting you up for serious dehydration. Since you won't be feeling as thirsty, it's important to set reminders to drink plenty of water and herbal teas to stay hydrated.4  
6. Nourish Your Skin with Antioxidant Supplements

What you put into your body directly affects your skin health. In addition to a whole, unprocessed food diet, antioxidant supplements are a proven way to support skin health and defense.  
Try Padma Basic, a clinically researched herbal formula with 19 antioxidant-rich botanicals to support key areas of health, including healthy skin rejuvenation and repair. One study in the Journal of Investigative Dermatology showed that Padma Basic promotes healthy collagen formation, making it an excellent supplement for skin health and defense against environmental impacts.*5 
With these winter skin hydration tips, you can keep your skin healthy, lustrous and protected, and feel and look your best all winter long.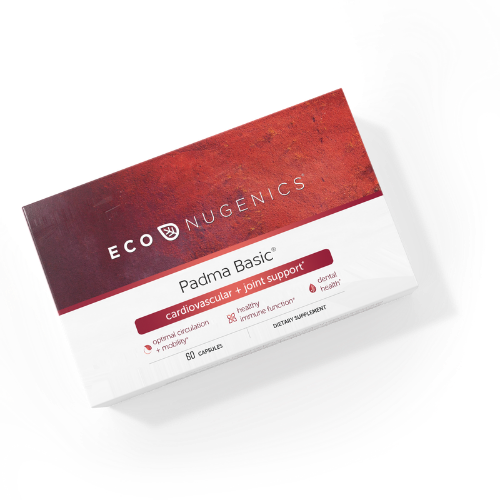 A clinically-proven herbal supplement based on a classical Tibetan formula, shown in over 50 published studies to provide comprehensive support for cardiovascular, immune and other key areas of health.*
Sources
McCusker MM, Grant-Kels JM. Healing fats of the skin: the structural and immunologic roles of the omega-6 and omega-3 fatty acids. Clin Dermatol. 2010 Jul-Aug;28(4):440-51. doi: 10.1016/j.clindermatol.2010.03.020. PMID: 20620762.

Humidity Check website. What is a good humidity level during winter? Updated 2021. Accessed Nov 30, 2021. https://humiditycheck.com/what-is-a-good-humidity-level-inside-during-winter

Skincancer.org Website. Winter sun safety: What to know about protecting yourself during colder months. Published November 13, 2018. Accessed November 30, 2021. https://www.skincancer.org/press/2018-winter-sun-safety/ 
Drip Drop Ors Website. Winter Hydration: Can you get dehydrated in cold weather? Updated 2021. Accessed Dec 1, 2021. https://www.dripdrop.com/blog/cold-weather/winter-hydration-can-you-get-dehydrated-in-cold-weather 
Aslam M N, et al. Journal of Investigative Dermatology. 2005; 124:3.
---