How One Daily Supplement Can Support Your Aging
Is there one natural ingredient that can support your aging?
An ingredient, formula or other solution that can address the true cause of aging?
When it comes to aging, the biggest risk to your health and longevity, and what causes aging symptoms like skin wrinkles, joint aches, and immune imbalances, is inflammation. The secret to aging is to manage healthy inflammation responses, and specifically, handling inflammaging (the long-term response and wear and tear on your body from inflammation, causing aging effects, and damage to your cells and DNA.)1
Why Supporting Healthy Inflammation Matters
From supporting healthy skin and organs, to eating the right foods and natural ingredients that help support healthy inflammation responses, you can ensure a safe and clean environment for your cells and body to thrive and do what it needs to do to help you feel and age well.
When you don't support your inflammation responses, your body ages faster, and it shows.
Aging Symptoms from Inflammation:
Skin issues

Joint pain

Dry and brittle hair and nails

Low energy

Brain fog

Mental health struggles

Gut health issues

More susceptible to infections and illness
With the right support and ingredients that help you keep your inflammation and immune responses balanced, you can reduce risks from toxins and prevent inflammaging and aging symptoms to your skin, gut, and long-term health.
Thankfully, there is an answer to combating inflammation and aging symptoms.. And it's proven.
Research has shown that a super nutrient, modified citrus pectin, addresses inflammation at the source. It works by blocking a protein in the body called Galectin-3—a key driver in inflammation and chronic disease—resulting in better energy, nourished skin, healthy inflammation responses, and more.2 
With over 75 published studies, and extensive, proven benefits, PectaSol modified citrus pectin is the first and only clinically proven modified citrus pectin that gives you daily support to help you feel young, healthy, and vibrant.2*
"PectaSol is the miracle supplement. If you had to choose one supplement to take, PectaSol would be it! I recommend it to all my patients."
- Rebecca Zambito, NP 
Wholehearted Functional Medicine
How Does PectaSol Support Your Aging?
PectaSol is your secret to healthy aging. It has so many benefits; it's a no-brainer for adding to your daily routine.
Healthy Aging Benefits of PectaSol2-5 
Supports Healthy Inflammation Responses*

Promotes Healthy Cell Behavior*

Proven Detoxification Support*

Mental Clarity*

Nourished Skin*

Healthy Hair*
PectaSol gives you stronger defenses to support your health as you age, with proven benefits you can feel. This super-nutrient counteracts the effects of aging, supporting your body systems to help you fight off inflammaging and threats to your long-term health. Nourishing your cells with this age-defying ingredient can help you feel your best and age well naturally, from the inside out.*
If you're ready to experience what total-body health and aging well feels like, it's time to try PectaSol modified citrus pectin.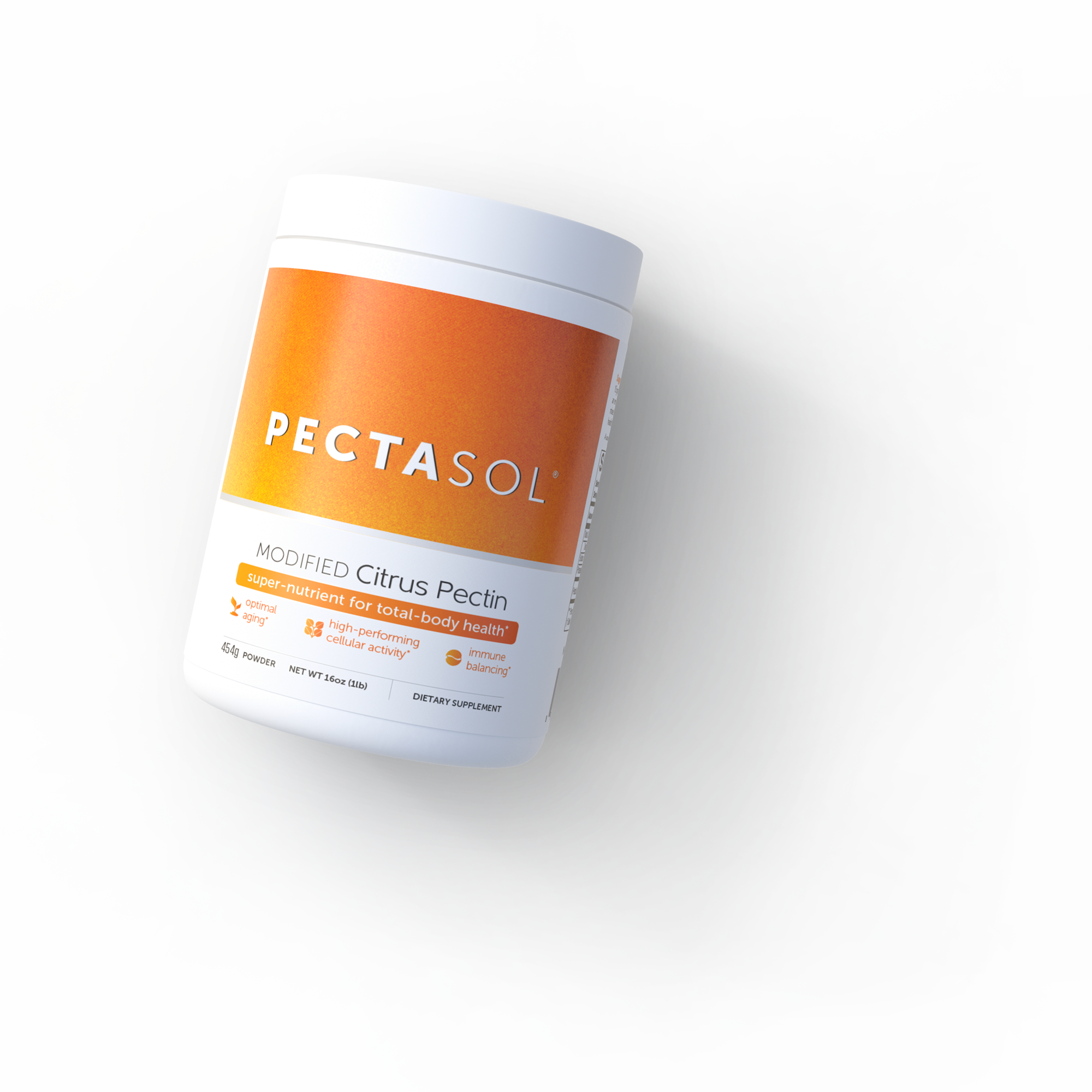 Formulated by award-winning Integrative Medicine expert and best-selling author, Isaac Eliaz, MD, PectaSol is the leading supplement for enhancing the body's most essential self-healing mechanics.
"Pectasol for overall wellness. In a world that is full of inflammation causing factors, Pectasol is a first line of defense! I've been taking it now for a few months and I've noticed huge improvements in my clarity, energy & mental alertness! I've also experienced a reduction in muscular aches & pains from Fibromyalgia. I've started giving Pectasol to my kids as well. My 11 year old has type 1 diabetes.
Since starting Pectasol, his overall energy has greatly improved along with more balanced glucose readings. I'm a Holistic Practitioner and I have much gratitude for Dr. Eliaz, his work and his creation of Pectasol. Pectasol will be a forever supplement in our home."
- Shari
"Feeling better every day Been taking Pectosol for a few weeks now and feel better every day."
- John S.
"The research convinced me ! I love the integrity of this product and of the company !! Everyone around me was catching this nasty cold and I managed to avoid it !! I'm sure it was the PectaSol. Truly believe in this product !!!"
- Sabrina L.
"I have only been taking it a couple weeks and can already feel the difference"
- James D.
Sources:
Pilkington SM, Bulfone-Paus S, Griffiths CEM, Watson REB. Inflammaging and the Skin.

J Invest Dermatol

. 2021 Apr;141(4S):1087-1095.

Eliaz I, Raz A. Pleiotropic Effects of Modified Citrus Pectin.

Nutrients

. 2019;11(11):2619.

Eliaz I, Hotchkiss AT, Fishman ML, Rode D. The effect of modified citrus pectin on urinary excretion of toxic elements. Phytother Res. 2006 Oct;20(10):859-64.

Eliaz I, Weil E, Wilk B. Integrative medicine and the role of modified citrus pectin/alginates in heavy metal chelation and detoxification--five case reports. Forsch Komplementmed. 2007 Dec;14(6):358-64.

Zhao ZY, Liang L, Fan X, et al. The role of modified citrus pectin as an effective chelator of lead in children hospitalized with toxic lead levels. Altern Ther Health Med. 2008 Jul-Aug;14(4):34-8.
---