Probiotics for Optimal Immune Health
Your gut is the main control center for your immune system. That makes nutrition and your digestive health a central imperative to cultivating a healthy immune system.
Nutrition goes beyond fueling cells for energy use. It requires hosting trillions of microorganisms that reside in your gut. To ensure a healthy balance of diverse gut flora, you need to include probiotics AND prebiotics—fuel to nourish and sustain the probiotics— in your diet.
However, studies show that regular probiotic supplementation may not be yielding the results desired.
One clinical study on probiotic supplementation showed that nearly half the subjects (40%) were NOT able to colonize beneficial bacteria following a four-week protocol of probiotics.
Why?
What many manufacturers fail to consider is the environment needed to support and encourage the growth of beneficial bacteria.
With all the probiotics out on the market, it was clearly evident; consumers were basically throwing away their money on products they thought would help them.
Meanwhile, long-term these probiotics were not effectively establishing themselves within the gut.
At ecoNugenics, our expert research team led by Dr. Isaac Eliaz, examined exactly what was needed to establish a healthy microbiome.
We found four key principles that needed to be taken into consideration: pH levels, overall digestive support, optimal bacteria selection, and providing nourishment for the bacteria you wish to promote.
These four principles drove our research team to formulate a comprehensive digestion-renewing product that addresses each of these gut microbiome health essentials.
Thus, ecoProbiotic was born.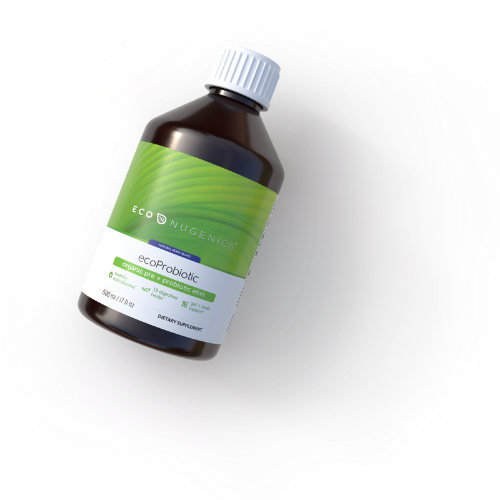 This concentrated, fermented formula provides fast-acting, digestive and microbiome support, in a highly bioavailable liquid form.*
We also needed a product that was readily bioavailable.
Bioavailability is a measure of your body's ability to absorb and utilize what you are consuming. The higher the bioavailability rate, the more likely your body is to soak up all the good stuff.
To complicate matters, the more your digestive system is not functioning properly, the less it is able to capture and use the nutrients you eat.
Since the majority of your immune system resides in your gut, getting your system back up and running is critical to your overall health.
In order to do this you need a strong gut-immune barrier.
ecoProbiotic balances your gut's pH to the ideal acidity level to create a welcoming environment for beneficial bacteria to thrive and survive. When pH levels are not in balance, because they are either too acidic or too alkaline, it puts your overall health at risk. Even small changes in your pH levels can affect the types of bacteria that survive. Probiotics help to maintain the appropriate pH levels and control opportunistic bacteria from taking over.*
ecoProbiotic contains 19 carefully selected organic digestive herbs that support your digestive system and immunity.*
To maximize the potential of these herbs, they're fermented in a bioavailable, liquid form. The fermentation process helps activate and enhance the potency of the phytonutrients in the formula. Microbes used to ferment herbs increase the bioavailability, and these herbs become living organisms designed to offer you fast-acting digestive relief and long-term support.*
ecoProbiotic includes the healthy bacteria that your body needs the most. We included eight different clinically-studied probiotic strains that each provide their own unique benefits for establishing a healthy gut.*
Finally, we needed to give nourishment to those probiotics, so they don't die off. We could think of no better superfood than the ultimate prebiotic: PectaSol.
ecoProbiotic includes an optimal amount of PectaSol in its formulation to feed the beneficial bacteria that you want to flourish, while helping to block the bad bacteria from gaining a foothold.*
Importantly, the good bacteria in ecoProbiotic consume all of the PectaSol in the formula...so don't forget to take your daily PectaSol dose to keep your cells functioning at peak performance!*
ecoProbiotic was designed every step of the way to deliver powerful, effective and broad-spectrum support for your digestion and your immune system—so you can better defend against foreign invaders, and activate greater health and vitality.*
Try it yourself today, and experience the difference.
---