6 Herbs and Nutrients for Improved Breast Health and Hormone Balance
In today's fast-paced world, it's easy to neglect your health, especially when it comes to something specific like breast health. But it's crucial to prioritize taking care of your body no matter your age.
To start with, it's important to focus on researched ingredients, those scientifically shown to help promote breast and cellular health when taken daily. 
Certain plant phytochemicals and nutrients deliver significant breast cell protection, helping to prevent or undo cellular damage. The right blend supports your body's own natural repair and defense systems. And these natural medicines also help prompt your immune system to tackle potentially problematic cells before they trigger health problems.
Focus on these six standout ingredients (plus, keep reading for information on an advanced formula that combines all of them): 
DIM (3,3′-diindolylmethane) is a powerful plant compound found in cruciferous vegetables like broccoli and kale. And it has a rare superpower: DIM supports healthy breasts by helping your body get rid of excess estrogen. Long-term exposure to too much estrogen can interfere with the normal function of breast cells — DIM counteracts those effects by improving safe processing of estrogen and xenoestrogens ("foreign" estrogen-like compounds found in plastics, pesticides, house and body products, and many other sources).1
Research shows that DIM also helps encourage damaged cells to die off exactly when they're supposed to – a process known as apoptosis.2 This super nutrient also helps increase expression of the BRCA1 gene, which helps cells repair their DNA properly.3
Even better: DIM has been specifically studied to see how it could help BRCA-positive women. One groundbreaking clinical trial discovered that DIM helped healthy BRCA carriers stay healthy.4 When the women took a daily dose of DIM, they saw a significant decline in their breast density, a clear sign of ongoing breast health. 
Curcumin is the most bioactive compound found in the bright yellow spice, turmeric. This nutrient-rich substance boasts vast health-promoting properties — and it's been studied extensively for breast health. Research shows that curcumin supports healthy breast cell function and repair.5
It's also been proven to function as:
An antioxidant

6

A brain tonic

7

 

 

A mood b

oost

er

8

 

 
Absorption is the key to reaping all the benefits of curcumin, as the compound is notoriously hard to absorb. ecoNugenics BreastDefend features BCM-95 Curcumin, a highly absorbable and bioavailable form of this golden health warrior, for enhanced breast benefits.*
Astragalus is a traditional Chinese herb well known for its ability to support and protect healthy immune system function and longevity.9 It has strong antioxidant properties that protect cells from free radical damage, as well as support healthy inflammatory responses.10 And it helps defend macrophages, immune cells that help preserve healthy breast cells.11
Astragalus has a powerful compound called formononetin that helps promote cellular DNA repair. Formononetin also helps inhibit unhealthy cells from thriving and encourages them to die off.12
Turkey tail mushroom contains a rich variety of cellular and immune-supportive compounds, including PSK (polysaccharide kureha) and PSP, that work together to help your body's defense team work more effectively.13 And powered by these two compounds, turkey tail delivers life-saving benefits — it has been shown to support healthy immune function and positive quality of life, even in end-stage cancer patients.14
Turkey tail supports optimal breast health by helping to stimulate powerful immune system cells such as NK (natural killer) cells.15 It also delivers antioxidant protection and helps your cells ward off DNA damage,16 both of which are vitally important for supporting breast health.
Reishi, known as the "Mushroom of Immortality," has been used in traditional medicine for centuries to keep people healthy and vital well into old age. It is a prized staple in the Asian oncology nutritional toolbox.17
Reishi supplies dozens of proven health benefits, including: 
Bolstering immune system response and function even in people undergoing conventional oncology protocols

18

Reducing fatigue and supporting physical and emotional well-being

19

 

 

Supporting healthy breast cells

20

Defending healthy cells against invasion

21

Enhance NK cell activity for boosted breast cell defense

22
You may also like: Reishi Mushroom 101: Benefits and More 
Meshima Mushrooms: Generations of traditional medicine practitioners have used meshima to promote wellness and longevity, especially for women when it comes to breast health. It works by blocking cellular adhesion and protecting healthy cells against invasion. Meshima has been shown to help "guide" vital nutrients into healthy cells through established blood vessels.23
Meshima also helps regulate proper immune function and increase protective immune cell function as needed.24 It also supplies superior antioxidant strength and supports a healthy inflammatory response.25  
Note: Medicinal mushrooms provide even stronger benefits when combined with other mushrooms. 
Many fruits and vegetables have a special flavonoid (plant chemical) called quercetin that supplies dozens of benefits for your well-being. Quercetin has many life-sustaining properties and helps support ongoing breast health in several ways.26 It acts as a powerful antioxidant, supports healthy blood pressure and cholesterol levels, and helps your immune system mount proper responses.27 Quercetin also helps keep breast cells healthy by activating specific proteins known to resist and repair damage.28
Research shows that quercetin helps increase the effectiveness of treatments used to promote breast health, as well as potential blood vessel damage.29 And quercetin helps regulate cellular signaling pathways and growth factors that affect healthy breast cell function.30
Chinese skullcap (Scutellaria barbata) is an herb widely used in traditional Chinese herbalism to promote healthy circulation and enhance immune system function.31

In Asia, this botanical is a core part of an herbal treatment used to support optimal breast health through various stages and levels.32 Extracts of this powerful herb help keep breast cells healthy by encouraging damaged cells to die off as part of their natural life cycle.33
Physician-Formulated Breast Supplement
For your best defense against breast health threats, you'll want a combination of these ingredients at the correct doses to give you powerful defense and longevity. ecoNugenics BreastDefend supplies a synergistic combination of these well-studied botanical ingredients, hand-selected and formulated by ecoNugenics' founder Isaac Eliaz, MD, LAc, MS, to deliver essential nourishment you need for long-term breast and hormonal health.*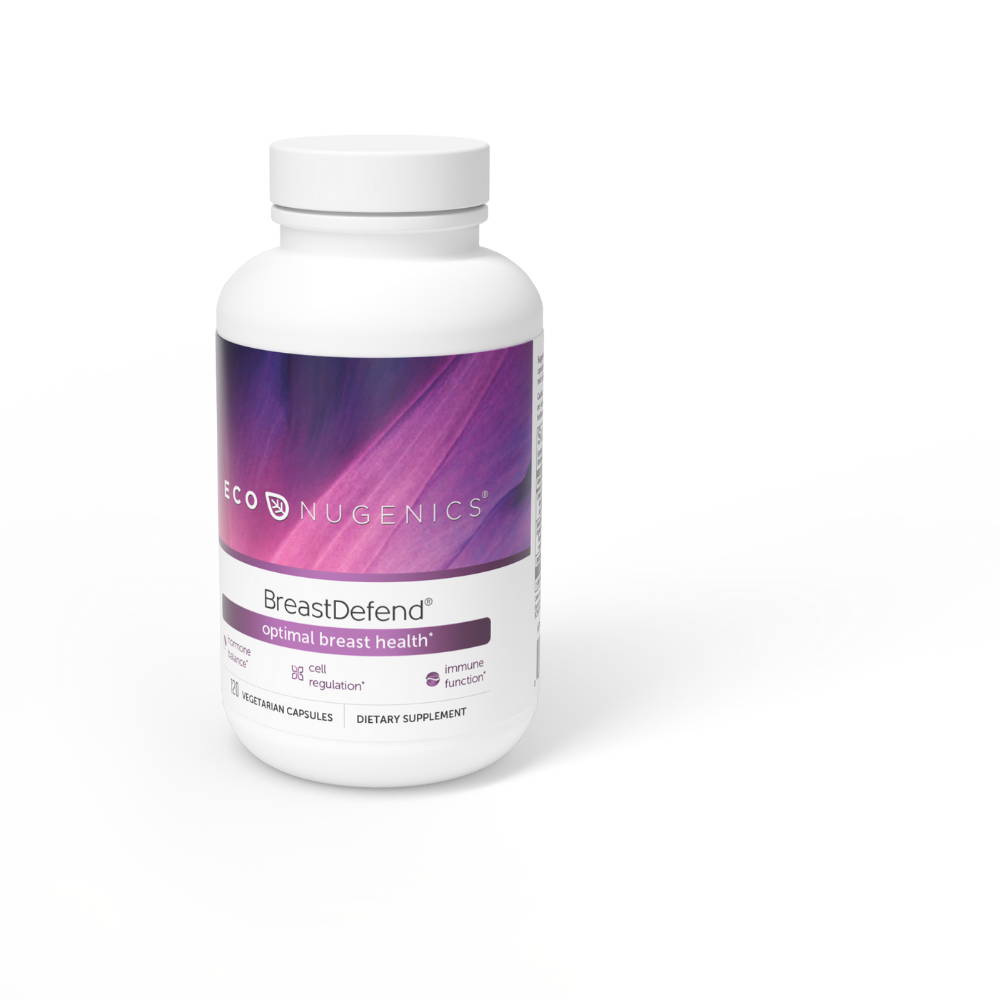 All of BreastDefend's proven effectiveness comes from a synergistic combination of eight safe, natural, and well-studied botanical ingredients*:
Unlike other breast health supplements, BreastDefend has been shown to provide powerful support and defense for cellular breast health and healthy gene expression. BreastDefend is a clinical-grade, scientifically researched formula that has been used successfully to actively support and maintain breast health, bolster immune function, and promote hormonal balance — all of which are critical to optimal health. And when you start to prioritize your breast health, you are building a foundation for long-term wellness, vitality, and optimal longevity.*
Sources:
Thomson CA, Ho E, Strom MB. Nutr Rev. 2016;74(7):432-443. 
Bhowmik A, Das N, Pal U, et al. PLoS One. 2013;8(3):e59798. 
Kotsopoulos J, Zhang S, Akbari M, et al. Br J Cancer. 2014;111(7):1269-1274. 
Yerushalmi R, Bargil S, Ber Y, et al. Carcinogenesis. 2020 Oct 15;41(10):1395-1401. 
Wang Y, Yu J, Cui R, et al. J Lab Autom. 2016 Dec;21(6):723-731. 
Kocaadam B, Şanlier N. Crit Rev Food Sci Nutr. 2017 Sep 2;57(13):2889-2895. 
Sarker MR, Franks SF. Geroscience. 2018 Apr;40(2):73-95. 
Fusar-Poli L, Vozza L, Gabbiadini A, et al. Crit Rev Food Sci Nutr. 2020;60(15):2643-2653. 
Liu P, Zhao H, Luo Y. Aging Dis. 2017;8(6):868-886. 
Huang WM, Liang YQ, Tang LJ, et al. Exp Ther Med. 2013;6(1):199-203. 
Li W, Song K, Wang S, Zhang C, et al. Mater Sci Eng C Mater Biol Appl. 2019 May;98:685-695. 
Tay KC, Tan LT, Chan CK, et al. Front Pharmacol. 2019;10:820. 
Fisher M, Yang LX. Anticancer Res. 2002 May-Jun;22(3):1737-54. 
Habtemariam S. Biomedicines. 2020;8(5):135. 
Torkelson CJ, Sweet E, Martzen MR, et al. ISRN Oncol. 2012;2012:251632. 
Knežević A, Živković L, Stajić M, et al. ScientificWorldJournal. 2015;2015:146378. 
Barbieri A, Quagliariello V, Del Vecchio V, et al. Nutrients. 2017 Feb 28;9(3):210. 
Gao Y, Tang W, Dai X, et al. J Med Food. 2005 Summer;8(2):159-68. 
Zhao H, Zhang Q, Zhao L, et al. Evid Based Complement Alternat Med. 2012;2012:809614. 
Jiang J, Slivova V, Harvey K, et al. Nutr Cancer. 2004;49(2):209-16. doi: 10.1207/s15327914nc4902_13. PMID: 15489214. 
Loganathan J, Jiang J, Smith A, et al. Int J Oncol. 2014 Jun;44(6):2009-15. 
Gao Y, Zhou S, Jiang W, et al. Immunol Invest. 2003 Aug;32(3):201-15. 
Konno S, Chu K, Feuer N, et al. J Clin Med Res. 2015 Feb;7(2):76-82. 
Sliva D. Exp Ther Med. 2010;1(3):407-411. 
Chen W, Tan H, Liu Q, et al. Molecules .2019;24(10):1888. 
Ezzati M, Yousefi B, Velaei K, Safa A. Life Sci. 2020 May 1;248:117463. 
Lagunas-Rangel FA, Bermúdez-Cruz RM. Front Oncol. 2020 Nov 19;10:598174. 
Hashemzaei M, Delarami Far A, Yari A, et al. Oncol Rep. 2017;38(2):819-828. 
Henidi HA, Al-Abbasi FA, El-Moselhy MA, El-Bassossy HM, Al-Abd AM. Oxid Med Cell Longev. 2020;2020:8157640. 
Henidi HA, Al-Abbasi FA, El-Moselhy MA, et al. Oxid Med Cell Longev. 2020;2020:8157640. 
Chen Q, Rahman K, Wang SJ, et al. Curr Pharm Des. 2020;26(1):160-175. 
Yeh YC, Chen HY, Yang SH, et al. Evid Based Complement Alternat Med. 2014;2014:202378. 
Rugo H, Shtivelman E, Perez A, et al. Breast Cancer Res Treat. 2007 Sep;105(1):17-28. 
---