More Than DIM: The Best Ingredients For Breast Health
What are the best ingredients and supplements for breast health?
You may have heard of DIM; a compound derived from vegetables like broccoli, cabbage, kale, and cauliflower that has a profound influence on breast wellness and overall cellular health. Multiple studies show that a diet full of these cruciferous vegetables can significantly protect and supports breast health. But DIM isn't the only ingredient that can promote healthy breasts and gynecological health for women.
What are the Health Benefits of DIM?
DIM is often used in breast health supplements and has been shown to support the immune system and help keep hormones in balance, like excess estrogen and unhealthy environmental estrogen-like compounds, including harmful "xenoestrogens". In the body, estrogen gets broken down into a variety of metabolites, some of which can cause problems in your breasts. DIM has been shown to help the body produce beneficial estrogen metabolites with antioxidant effects, and reduce unhealthy estrogens.1   
Breast health, and other areas of hormone-related cellular health, depend on this delicate balance. 
Why You Need More than DIM
For optimal breast cellular health and defense, you need more than just DIM on its own. When you have the right amount of DIM, combined with antioxidants, botanicals and other natural ingredients into a powerful, researched supplement, breast health benefits are significantly enhanced. This combination of breast health ingredients gives you complete support and defense for optimal breast health and longevity. This is the clinical-grade power and benefit you get from expert, physician-designed formulations, vs. single ingredients on their own.  
Physician-formulated BreastDefend contains DIM together with other powerful natural botanical extracts and functional mushrooms, to actively promote breast health, hormone balance, and overall wellness for women. Unlike other breast health supplements, BreastDefend is shown in four published studies to provide powerful support and defense for breast cellular health, healthy gene expression, and longevity, in hormone positive as well as hormone negative breast cells.2-5*  BreastDefend is a powerful, scientifically researched formula that has been used successfully in integrative clinics to actively support and maintain breast cellular health, support the immune system, and promote hormonal balance that is so critical to keeping you healthy over time.*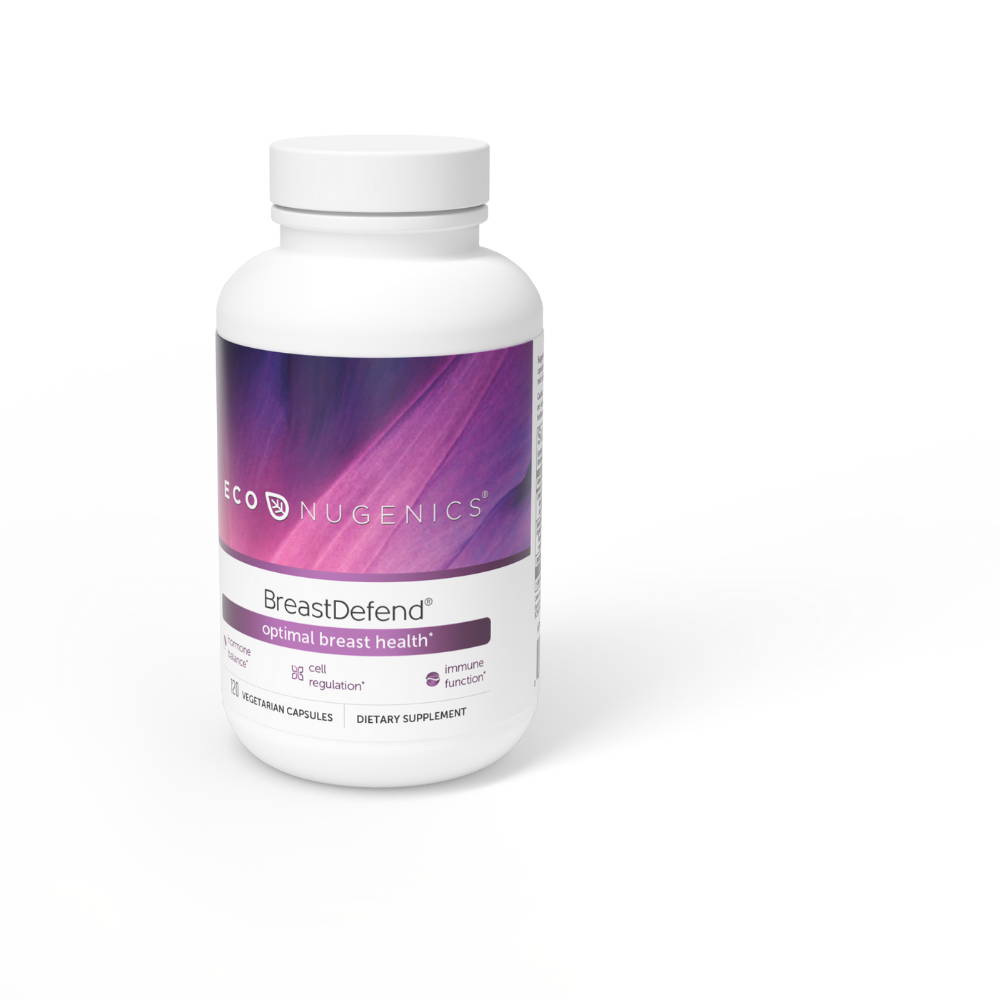 All of BreastDefend's proven effectiveness comes from a synergistic combination of eight safe, natural, and well-studied botanical ingredients*:
"I've been using this product for several years now and, although I don't get mammograms, my thermography exams have always come out normal. I believe this product contributes to those results!" 
- Diane G.  
Natural Ingredients for Breast Health
In addition to concentrated DIM, BreastDefend contains four researched breast health botanical extracts:   
Quercetin is a powerful bioflavonoid that supports cellular regulation, healthy inflammation responses, antioxidant activity, immune balance, and other benefits.    
BCM 95® is a patented, highly bio-available form of curcumin (turmeric rhizome extract) that supports immunity, healthy gene expression, cellular regulation, healthy inflammation responses, antioxidant activity, and other benefits.   
Astragalus root extract supports healthy immune function, cellular regulation, and more. 
Concentrated 10:1 Chinese Skullcap extract gives you powerful cellular regulation support, antioxidant activity, healthy inflammation response, and more for healthy breasts. 
Completing the formula are three botanically enhanced medicinal mushrooms that have been extensively researched for their benefits in breast health and immunity: Coriolus, Reishi, and Phellinus. These medicinal mushrooms are US-grown in carefully controlled indoor environments, on a proprietary blend of immune-enhancing herbs and brown rice which gives an extra boost to their powerful health-promoting properties.
When you take proactive steps to prioritize your breast health with a nourishing natural whole foods diet rich in cruciferous vegetables, together with regular exercise, and healthy stress relief, you have the foundation for long term breast health and support. Adding the comprehensive breast formula BreastDefend, backed by published research and extensive clinical success, can provide you with enhanced, synergistic benefits to keep breast cells healthy, inflammation responses balanced, and defend your long-term health, naturally.*  
Sources:

1. Thomson CA, Ho E, Strom MB. Nutr Rev. 2016 Jul;74(7):432-43.
2. Cheng S, Castillo V, Welty M, et al.BMC Complement Altern Med. 2017;17(1):115.  
3. Jiang J, Thyagarajan-Sahu A, Loganathan J, et al.Oncol Rep. 2012 Oct;28(4):1139-45.
4. Jiang J., Eliaz I., Sliva D. Integr Cancer Ther. 2013 Mar;12(2):145-52.
5. Jiang J., Wojnowski, R., Jedinak, A., Sliva, D.Integr Cancer Ther. 2011 Jun;10(2):192-200.
---