Tips for Winter Skin Health
Winter can be a picturesque season. Imagine serene landscapes, the smell of spiced cider and hot cocoa, while sitting around cozy fireplaces. It all sounds perfect. However, winter can also bring a number of challenges: Cold and flu season, winter blues, lack of vitality—and skin issues, among others.
Colder weather, as well as indoor heating, can dry out your skin and cause discomfort, as well as premature aging. Here are some key strategies that can help prevent these issues and support optimal skin health this winter.
All-over Moisture for Winter Skin Health 
This first tip is not about the kind of moisturizing we can use on the face and body. Instead, it's about improving the moisture in the environment where we spend most of our time.
Either at home or at the workplace we have the tendency to crank up the heating during the cold winter months. This may make us feel warm and cozy but it also makes the environment dryer—and our skin takes the biggest hit. The skin acts as a barrier keeping the water in the body. However, when it's cold and dry the water evaporates off faster and easier on the surface.
Having a humidifier in the places we spend the most time is a must. Using a cool-mist humidifier in the room while sleeping can help get skin glowing again.
Winter Sun Protection for Winter Skin Health 
Many people ditch the use of sunblock during the winter months. But getting a sunburn on a cloudy winter day is very possible.
Sunburn is caused by UV rays, which are strongest in the summer months but can damage the skin at any time of the year. Furthermore, the snow and ice present in high altitude places can reflect 80% more of the sun's UV light, resulting in our skin getting hit by the sun twice. This can cause severe skin burns that can lead to skin cancer, other skin problems and premature aging.1
It's essential to use sun protection while enjoying winter activities outdoors. Look for a sunblock that has at least 30 SPF, with zinc oxide or titanium dioxide as the active ingredients. These mineral-based sunblock ingredients are considered safer than others.
Shorter and Colder Showers for Winter Skin Health
Some studies have noted that cold showers can be beneficial for skin health.2 
As tempting as it can be to take long hot showers or baths in the wintertime, it's better to switch to 5 to 10-minute showers with lukewarm water. Simply put, hot water dehydrates the skin. If you must indulge in hot baths, keep the bathroom door closed to keep humidity in. After, dry lightly and apply a generous amount of moisturizer to damp skin.
Antioxidants for Winter Skin Health 
Skincare goes beyond applying moisturizers, sunblock, or other topical agents. It also involves feeding and nourishing your skin from the inside out. Keeping yourself hydrated is step one for healthy skin. Drink an extra glass or two of water, and avoid extra caffeine, alcohol or sugary drinks that can further dehydrate.
Antioxidant-rich fruits and vegetables, as well as targeted herbal formulas, are shown to support skin health as well.
Clinically researched Padma Basic is one such antioxidant-rich supplement, demonstrated in over 50 published studies to offer a diverse range of benefits— including support for healthy skin. The botanical ingredients in Padma Basic are high in antioxidant compounds like polyphenols, bioflavonoids, and essential oils that work together to promote robust immunity, optimal circulation, healthy cellular function, and other critical areas of health.*
One preclinical study published in the Journal of Investigative Dermatology showed that Padma Basic actively promotes healthy collagen formation, highlighting its benefits as an effective skin health supplement.*3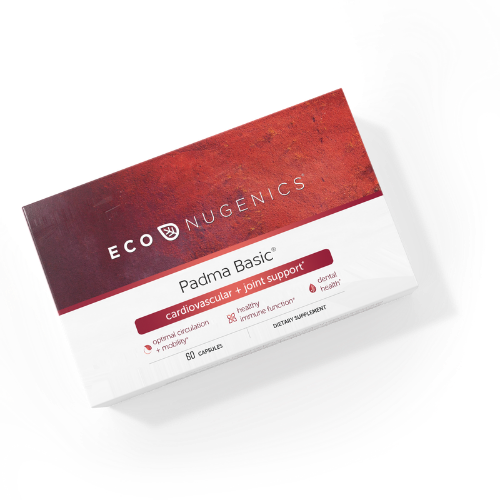 A clinically-proven herbal supplement based on a classical Tibetan formula, shown in over 50 published studies to provide comprehensive support for cardiovascular, immune and other key areas of health.*
Omega Fats for Winter Skin Health 
When the skin outer layer lacks moisture it causes itching, cracking, flaking, roughness, and even a burning sensation. For winter skin health we may add Omega-3 rich foods like cold water fish, walnuts, flax seeds and other sources, or Omega-3 supplements, to help to protect and moisturize the skin from the inside.
Upgrade Skincare for Winter Skin Health 
As the seasons change, so should our skincare routine. The moisturizer that is used in summer may not be the most effective for the cold winter weather. During the winter, avoid the frequent use of toners, especially the alcohol-based ones that can dry the skin. Give preference to cream-based facial cleansers, use lip balm to prevent and heal dry cracked lips. Apply a thick moisturizing cream instead of lotion after showering to seal in the hydration. We can also apply some coconut oil to create a barrier on the skin before getting into a hot bath. 
Vitamin D for Winter Skin Health 
"The sunshine vitamin", or vitamin D, is made in the skin after sun exposure. Ironically the same UV rays that cause sunburn, also make vitamin D—but like everything, moderation and balance is the key.
Vitamin D is also present in oily fish such as mackerel, tuna, and sardines, along with mushrooms and fortified dairy and non-dairy products. Vitamin D is crucial for fighting infections and keeping us healthy. However in winter when we need it the most, we often don't get enough. Studies hav shown that Vitamin D deficiency may increase individuals' risk of health problems like type 1 diabetes, multiple sclerosis, and hypertension.4 The skin shows a lack of Vitamin D when it appears chapped, dry, or flaky. Hence the importance of adding anywhere between 600-1000 IU/day of Vitamin D.
True, we may miss summer full of sunny days, outdoor adventures, and time with family and friends. However, winter has its perks too, including a time to slow down and give space to nourish and care for yourself. Let's enjoy this winter season without forgetting to give some extra attention to our biggest organ.
Sources
Winter sun safety: What to know about protecting yourself during colder months. Skincancer.org. Published November 13, 2018. Accessed November 26, 2020.

https://www.skincancer.org/press/2018-winter-sun-safety/
Buijze GA, Sierevelt IN, van der Heijden BCJM, Dijkgraaf MG, Frings-Dresen MHW. The effect of cold showering on health and work: A randomized controlled trial. PLoS One. 2016;11(9):e0161749.
Aslam M N, et al.

Journal of Investigative Dermatology

. 2005; 124:3.
Holick MF, Chen TC. Vitamin D deficiency: a worldwide problem with health consequences. Am J Clin Nutr. 2008;87(4):1080S-1086S.
---