Celebrating Two Decades of Modified Citrus Pectin!
Who would have thought so many amazing health benefits would have come from a citrus fruit! PectaSol-C Modified Citrus Pectin has become a leading natural supplement for supporting long-term wellness.* Health care professionals and health-minded individuals continue to find the benefits of using the only patented formula of Modified Citrus Pectin (MCP) to support cellular health, healthy galectin-3 levels, immune function and detoxification.*
Whether you are just learning about PectaSol-C, or a scholar who has followed nearly 20 years of innovative research, it's no secret that this citrus pectin derivative has helped so many people achieve lasting wellness.* PectaSol-C MCP supports healthier cells, immune response, balanced detoxification, and more!
PectaSol-Cis the only patented and researched form of MCP for cellular support, immune health and safe heavy metal detoxification. Studies showPectaSol-C MCP controls excess galectin-3, the "rogue molecule" linked to cardiovascular health, cellular health and numerous other areas of health. By promoting healthy galectin-3 levels, PectaSol-C is shown to support breast, prostate, cardiovascular, kidney and other areas of health, safely without side effects.*
Not all MCP is alike — in order to be effective, it must meet exact molecular specifications. Only PectaSol-C MCP is produced using a proprietary process that carefully controls the weight and structure of the pectin molecules for optimal absorption and bioactivity throughout the body, as shown in the published research. The result is clinically proven MCP with a molecular weight range less than 15 kilodaltons and a low degree of esterification. This means thatPectaSol-C is easily absorbed into the bloodstream, where it can actively exert its diverse array of benefits.* In multiple peer reviewed studies,PectaSol-C has been shown to actively promote cellular health, support healthy immune function, control excess galectin-3 molecules, safely remove heavy metals, and promote the overall health of our cells.*
While we live in an increasingly complex society, it's sometimes the simple solutions that bring the greatest benefit. As more research is being conducted on PectaSol-C MCP, we continue to learn how valuable this product of citrus peels can be. Thanks to pioneers and visionaries in field of nutraceutical research, an ordinary material that we often discard, reveals extraordinary health-promoting benefits.*
2011 Research from Dharma Biomedical and the United States Department of Agriculture- Agricultural Research Service (USDA-ARS) has shown that PectaSol-C MCP offers powerful support for the immune system.*
In another study by researchers at Indiana University Health and Indiana University School of Medicine, PectaSol-C MCP enhanced the cellular benefits of two poly-botanical formulas, BreastDefend for breast health and ProstaCaid for prostate health. When co-administered with these formulas, PectaSol-C significantly increased their beneficial actions.*
Earlier published clinical research on PectaSol-C MCP demonstrates its ability to safely remove heavy metals such as lead, mercury, arsenic, and cadmium, without affecting essential minerals. Importantly, PectaSol-C MCP achieves these health benefits, safely without side-effects.*
Many years of published research on PectaSol-C show it to be a superior agent for promoting long-term health from multiple angles. ecoNugenics' recent and current research projects include studies with the U.S. Department of Agriculture's Agricultural Research Service (USDA-ARS), Columbia University Medical Center's Department of Urology, Indiana University Health's Cancer Research Laboratory, University of Texas' MD Anderson Clinic, as well as studies abroad in the Europe, Israel and China.*
ecoNugenics was founded in 1995 by Dr. Isaac Eliaz, MD, MS, LAc, a pioneer in the field of integrative health, and a leading expert in the field of Modified Citrus Pectin research. With the advancement of modification processes and a deep commitment to ongoing scientific research, ecoNugenics continues to lead the field in using Modified Citrus Pectin (MCP) for long-term health and wellness.*
PectaSol-C Modified Citrus Pectin embodies our mission to improve lives with high quality, research supported nutraceuticals. Our unique approach is based on the thoughtful blending of modern science with the ancient wisdom of traditional herbalism. We are happy to celebrate 20 years of PectaSol-C Modified Citrus Pectin and look forward to helping many more people lead healthy and happy lives.*
"PECTASOL-C IS THE MOST EFFECTIVE PRODUCT AVAILABLE FOR COMPREHENSIVE, NATURAL CELLULAR HEALTH SUPPORT."*
– DR. ISAAC ELIAZ, MD, MS, LAC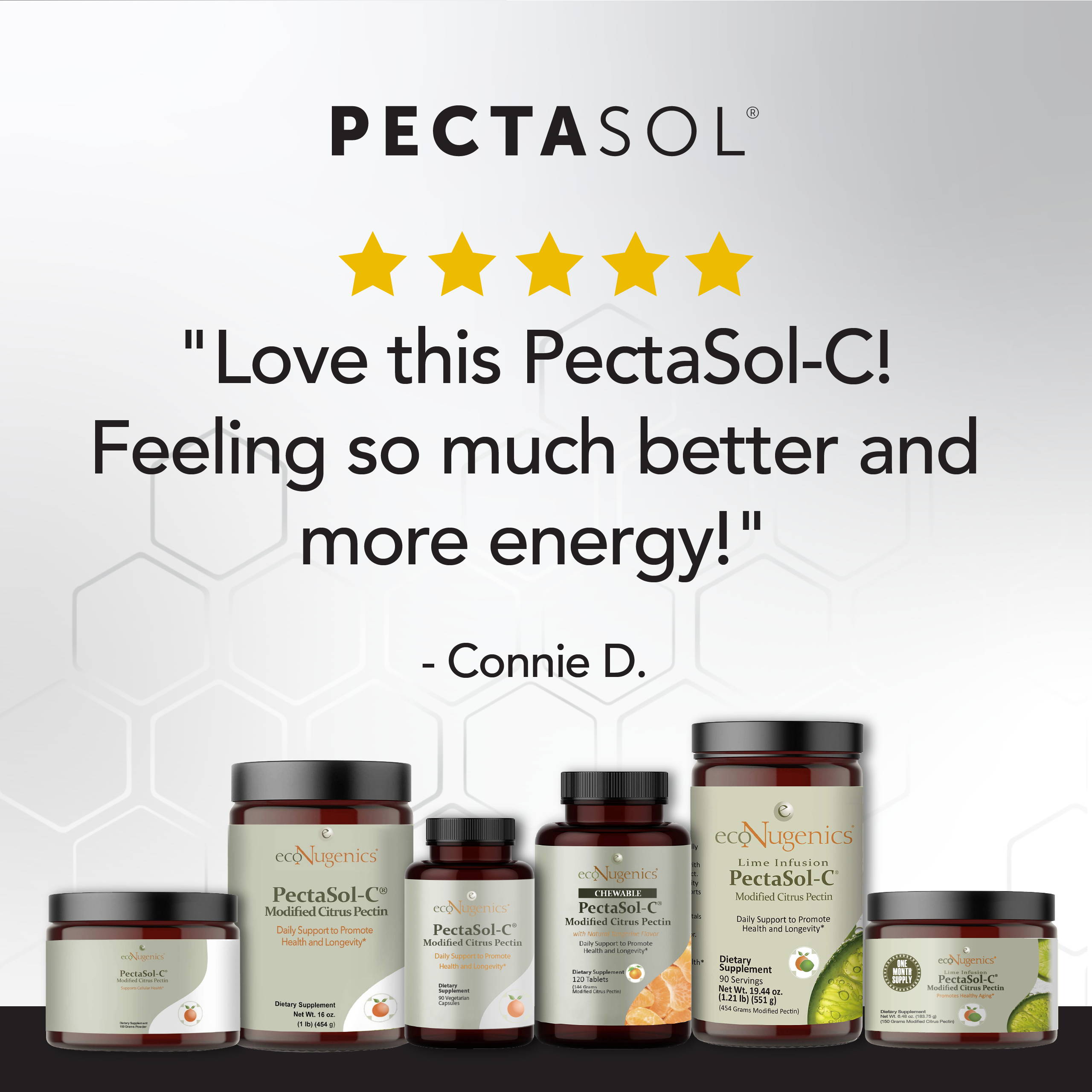 ---